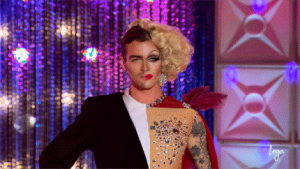 Twitter
HERE WE GO!! After last weeks elimination of Miss Fame, "RuPaul's Drag Race" kept on going towards the finish line, and it appeared we were in for quite the challenge this week. But that mini challenge? The ladies were tasked to ham it up for a spoof on the "Real Housewives" using makeup, a wig....and scotch tape on their faces. The hilarious results came fast and fierce, which resulted in Violet winning the challenge.
For the main challenge, it was revealed that they would be put into pairs for a dance challenge fusing different styles of dance in one. The twist however, for the runway presentation was LEGENDARY. Half drag, meaning half man and half woman. With Violet winning the mini challenge, she would put the teams together: Violet/Katya - Tango & Vogue Pearl/Kennedy - Charleston & Twerking Ginger/Trixie - Country & Robot
It was time for the queens to rehearse their numbers alongside Carson Kressley and Kym Johnson from "Dancing with the Stars". Each team had their own problems, with Pearl really struggling while Katya & Violet seemed to be completely disconnected. And then there were Ginger and Trixie. Unfortunately for our queens, Trixie was tasked with performing a lift with Ginger and both of them seemed really shaken by what they had to bring to the runway. Ginger really seemed nervous about the challenge, and Trixie tried to no avail to whip up her spirits.
And......then....it......happened.....
Listen, your #MetGala look is cute and all, but @RuPaul reigns supreme! Watch #DragRace tonight at 9/8c on @logotv. pic.twitter.com/s0C8ndbd3U

— RuPaul's Drag Race (@RuPaulsDragRace) May 4, 2015
YES MAMA RU!!!!!! Okay, let's keep going. After a strong presentation on the runway from all 6 queens, (I truly mean that), it was time for the dancing debuts!! The routines came fast and furious, and as much as it pains me to say it..... Ginger and Trixie were the weakest. In one of the hardest critiques of the SERIES, Ru knew they needed to make a decision as to who would lip sync for their lives. Ru, Michelle Visage, Carson and guest judges Alyssa Milano & Rachael Harris all commended on how much Pearl had grown, and didn't seem to have many critiques for ANYONE. Ru then also revealed that she would be judging them in PAIRS.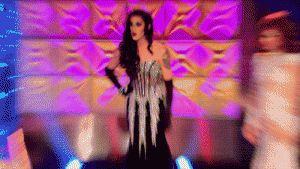 Tumblr
Adore Delano's reaction was OUR reaction. And we had the WINNERS of the challenge: Katya and Violet!! Pearl and Kennedy were also safe, which unfortunately meant Ginger and Trixie had to lip sync for their lives. And in the end, our beloved Trixie Mattel would sashay away yet again. Let's be real though, that lip sync could have gone to ANYONE. That's it kittens..... What did you think of tonight's episode??
Keep Up With PopWrapped On The Web!