IT'S HERE KITTENS: 'RuPaul's Drag Race' is gearing up for its final lap, and all that's left is to crown a winner. Tonight's episode featured the top 4 (Violet Chachki, Kennedy Davenport, Pearl & Ginger Minj) squaring off for a coveted spot in the final 3. No guest judges this week, as RuPaul always likes to say: 'Tonight, is just family' as Michelle Visage, Carson Kressley and Ross Matthews prepared for their final critiques for the season. The remaining queens were spared a mini challenge this week, and were thrown into a HUGE final challenge leading into the top 3 reveal. They would be filming the music video "Born Naked" alongside RuPaul and would learn choreography with Candis Cayne, before an acting set with Mathu Anderson The filming of the choreography round was not exactly easy to sit through, as all of them (minus Kennedy) really struggled. From wigs falling off, to earrings flying off, it was....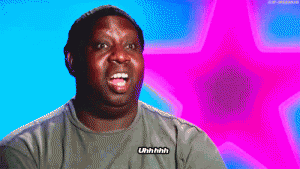 Buzzfeed
Following that shit show, was ANOTHER. The queens performed alongside Ru for the acting challenge and while (surprisingly) Pearl and (non-surprisingly) Ginger excelled, Violet and Kennedy really seemed to miss their marks. After some vicious banter in the work room, the ladies needed to BRING their best drag to the main stage! In a new twist, leading up to the video debut and critique, Ru revealed to each queen a childhood photo of themselves and asked what they would tell their past self. The moment tugged at our heartstrings as each queen bared their soul, but it was Pearl that really brought the tears. Ru reminded Pearl, who was breaking down:
"You're a star baby".
After the video and critiques, Ru needed one more helping reminder as to who would make the top 3: They would battle in a fierce lip sync to "Born Naked"!! Now, yours truly can't really contain emotions that well, so we're just going to get right to it.... KENNEDY was eliminated!!! That officially means that Ginger Minj, Violet Chacki and Pearl were the final 3 queens!!! Whose team are on?