"Meaty tuck? We just witnessed the meatiest tuck of them all!" Drag stars, celebrities and glamazons alike gathered in central London on Thursday evening to attend the prodigious, A-List drag event of the year. RuPaul's Drag Race UK Ambassador was to be crowned! As the crowd gathered into Café de Paris the intimate venue came to life as champagne and Absolut cocktails flew in abundance. Signage stating, "This Event Is Being Filmed. Don't Fuck It Up," reminded boys, girls and everyone in between that Mama Ru is watching. On entry into the venue the PR girls had grins on their faces that beamed, "This is the most fabulous event we have ever worked!" Weeks of promos, videos and lip-syncing galore came down to this one very night. This one very competition where twenty-one queens battle it out for the title of UK Ambassador of
RuPaul's Drag Race
.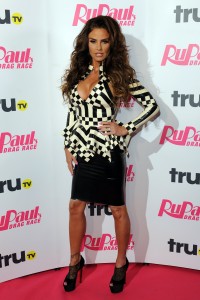 Photo by Jeff Spicer/Hope and Glory Comms
Amy Lamé took to the sparkly stage to host the night's festivities, and even though she looked like a sparkly present herself, boy (or should we say GURL) did she have a present for us. Whilst introducing the judging panel, the crowd, which included
Drag Queens of London
stars Meth, Baga Chipz and Lady Lloyd raised the roof as "honouree gayer" Jonathan Ross worked the runway. The chat show host, who is rumoured to launch a UK version of
RuPaul's Drag Race
was closely followed by Miss Glamazon herself Katie Price, who looked slender and chic. Mincing off the stage, the gorgeous pit crew who wore only six packs and tight Union Jack boxers escorted the
Celebrity Big Brother
 winner to her judge's seat.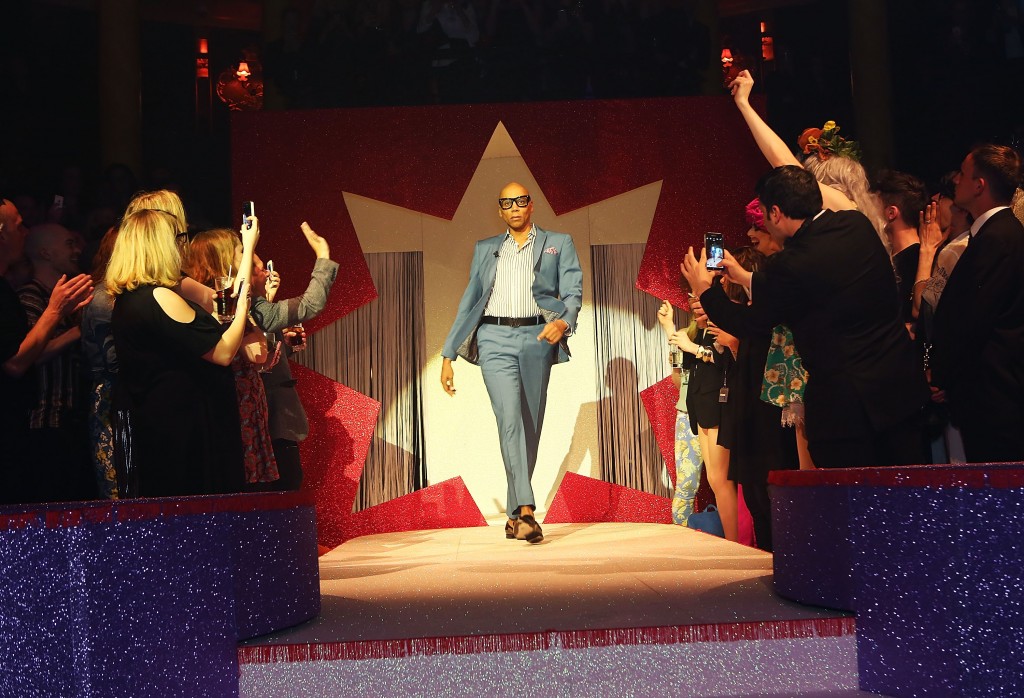 Photo by David M. Benett
Displaying their "Charisma, Uniqueness, Nerve, and Talent" the twenty-one potential RuGirls had to sissy their walk, introducing themselves to the judges and audience. The likes of Daisy Lowe, Henry Holland, Duncan James and Jodie Harsh were in attendance to witness this eleganza extravaganza runway. The Hollie Would channeled Marilyn Monroe whereas Lady Portia looked glam in gold. The Prince of Vanity served fishy realness and we got a glimpse through Joe Black's looking glass. Then Sue Gives A Fuck, well actually who cares with an amazing name like that. Ten points to you, Sue.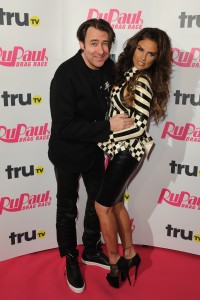 Photo by Jeff Spicer/Hope and Glory Comm
With an impressive opening to the competition RuPaul stated, "These girls really represent what it means to be a queen in the Queen's land." Jonathan even confessed, "I'm really fucking confused right now, because I really would!" And Katie pointed out the contestants were more tucked than she was. Perhaps they've been watching Willam Belli's and Gia Gunn's hilarious tucking tutorial on
YouTube
. With just nine queens going through to the second round the rest were left to hang up their heels and sashay away. With the crown within closer reach to the remaining girls it was time for Round Two: Lip Sync Battle *
YAY*
. The queens battled it out in threes to RuPaul's singles "Glamazon" and "Covergirl". A surreal moment witnessing Ru singing along to his own popular hits at the judge's table. Eddie OK Adams, looking like an extra from
50 Shades of Grey
treated us to 50 Shades of Cray as she threw herself off the stage launching into the splits. This generated well-deserved gasps and cheers from the spirited crowd. Jonathan labelled the girls from the first battle as, "All fantastic," and pointed out that Anna Phylactic could easily be Katie Price's Grandmother. After the second battle featuring Fendi Laken, Grace Oni Smith and La Voix, host Amy Lamé stated, "I don't know why I keep staring at them. I'm a fucking lesbian!" Little did she know what was around the hairy corner as Miss Ciaro welcomed everyone to her *
coughs
* jungle. With sparkly nipples, twerking, phone stealing and jaw dropping splits Jonathan claimed that everyone was now in need of a sausage on the way home, even the vegetarians.
Drag Queens Of London
 star Baga Chipz told Amy, "I'm surprised she's got any bollocks left!"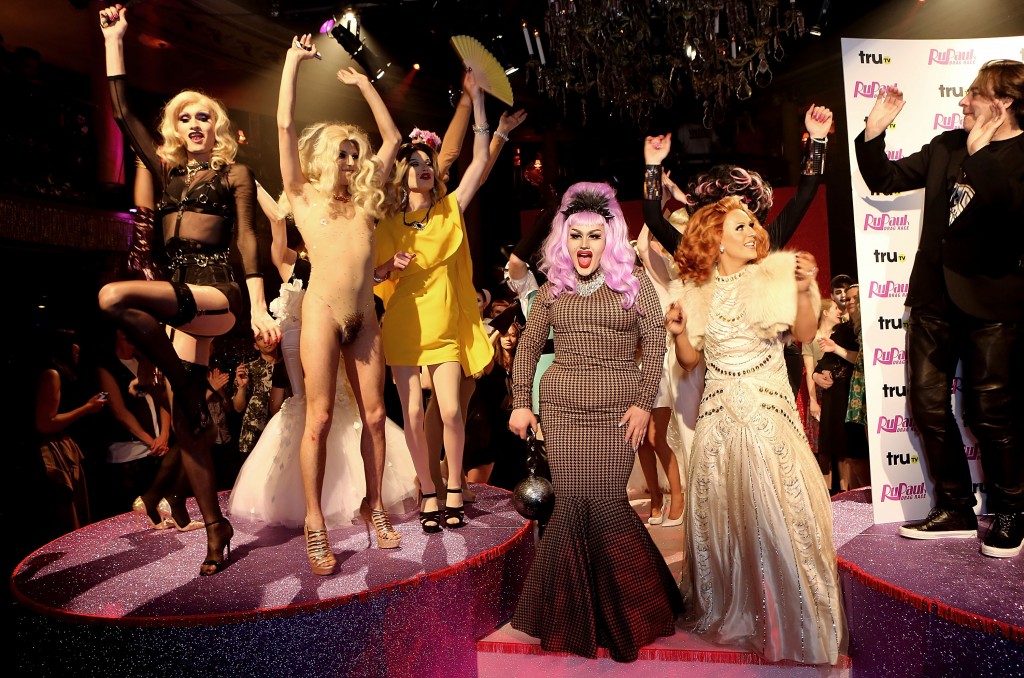 Photo by David M. Benett/Getty Images for truTV
Ciaro's amazing performance was like a literal episode of
RuPaul's Drag Race: Untucked
 however it wasn't enough to keep her in the race as La Voix, Eddie OK Adams and The Vivienne shantayed into Round Three: The Interview. When asked by Jonathan who would be her three guests at a dinner party La Voix hilariously listed her attendees as Jesus (obvz), Liza Minelli and Fred Flintstone. With her natural knack to humour, down to earth personality and contagious smile, La Voix had the audience laughing along with her and judge Jonathan was seemingly impressed. Katie Price asked Eddie OK Adams which historical changes she would have made as the Queen Of England. Eddie's clever response was the dates that gay marriage was legalised in the UK, as it should have been sooner. "A fantastic answer," claimed Katie, which was concurred by a chorus of cheers from around the room. Finally Liverpool queen, The Vivienne was asked by RuPaul who she thought should be Queen of the world. At first it seemed like she was going for the obvious answer of RuPaul. However she pulled it right out of her designer handbag by claiming Ru's best friend and
RuPaul's Drag Race
judge Michelle Visage should in fact hold the title. The Vivienne spoke about how Michelle was an inspiration to her, which you can actually see in her look. She also spoke about how Katie Price's
Celebrity Big Brother 
housemate has actively campaigned to commission 
RuPaul's Drag Race
 here in the UK. YES MAMA! Her answer took her right into the finale along with Rosie Beaver's possible Aunty, La Voix. The two finalists were challenged, of course with lip syncing for their lives. Battling it out to RuPaul's "Sissy That Walk" it was nice to see a lack of shadyness between the two queens. Whilst they did look like a pair of Disney villains having a party there was a clear friendly vibe between them. At the end of the race the two hugged one another before Ru took to the runway to crown the winner.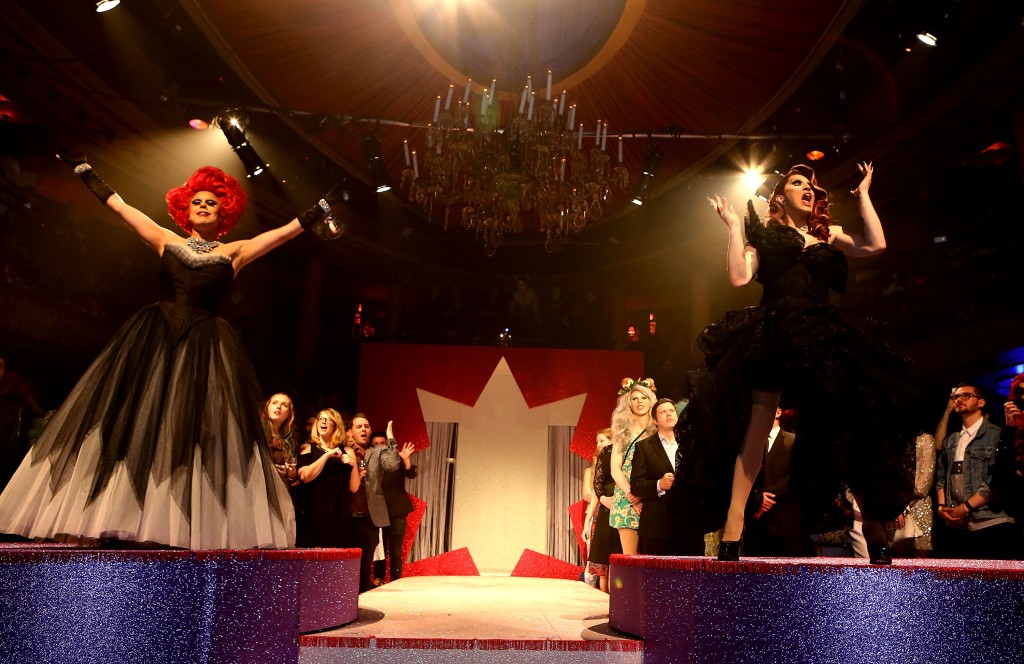 Photo by David M. Benett/Getty Images for truTV
From lip syncing in her
YouTube
audition to the lyrics, "Now watch me snatch trophies," The Vivienne stuck to her word by deservingly winning the race and claiming the inaugural prize. The
 RuPaul's Drag Race
 UK Drag Ambassador said, "I am so honoured to represent the magnificent drag queens from the UK as the first ever Drag Ambassador. RuPaul is an inspiration for all these queens that fought till the end of the competition, and to be chosen for this is a dream come true!" As Ambassador, The Vivienne will create a series of exclusive vlogs that will be hosted on
truTV's YouTube
 channel. She will also receive an all expenses paid trip to LA where she will go behind the scenes of season eight of 
RuPaul's Drag Race.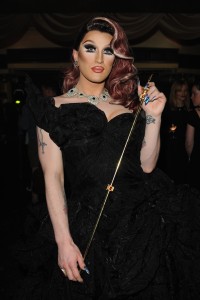 Photo by Jeff Spicer/Hope and Glory Comms
Girl, if you have room in your suitcase don't forget about us at PopWrapped!
RuPaul's Drag Race
 premieres on truTV on Monday 1st June at 10pm on Freeview channel 68 and Sky 198. The one and half hour special will be followed by 
RuPaul's Drag Race: Untucked
, which contains never seen before behind the scenes content at 11.30pm.