After a somber goodbye from the tallest queen in RPDR history, Tempest DuJour, the ladies return to the Workroom for their first "OMG we're so tired let's all sigh together " moment, complete with spritz of Windex and shade from Kandy. Usually the ladies say some kind words about the departing contestant, but it actually turned into the Violet Hates Michelle Hour. Ginger is a bit thrown off that Violet would bad mouth the Auntie of Drag so soon, but youth does breed naivety. Sasha begins to grovel at the Altar of Pearl, who seems like she can't even begin to be bothered, but then again that's her face most of the time.
Over it face. @pearliaison #DragRace pic.twitter.com/dyN2emm8E4 — RuPaul's Drag Race (@RuPaulsDragRace) March 10, 2015
SHE ALREADY DONE HAD HERS
(IS that what we're calling the RuNouncement instead of the "Mail who shall not be named"? IDK.) Anyways, after Ru goes on about some flying and airline puns, Clark-Kent Ru sashays in to let them know they're about to be blown away by the Pit Crew. (SIDE NOTE: the other ginger in this competition,
Bryce,
is definitely making up for our old Crew faves who have left us.) Ru introduces his good friend Moby (?????) as the judge for the team captain determining mini-challenge because... he has a landscaping side business? Anyway, the queens run off to throw on some quick-drag and pin a wig to their heads. MAJOR props to whomever produced this Gone With the Leaf-Blower montage because it was both hilarious and oddly beautiful! In the end, Ginger and Trixie came out on top and were able to choose their teams for the episode's main challenge: a musical number! Ru explains that the challenge will be focused on Glamazonian Airlines, the first flights run completely by drag queens. Trixie conspicuously chooses the prettiest boys/girls (hey Katya is pretty sometimes!) while Miss Minj goes for the "more diverse" team. (#OopMoment: Aryan Airlines). Trixie's plan kind of backfires when Violet gives her some "public school" sass and Fame reminds us she just might be a supermodel and not a super performer. Ginger has her own share of wrangling to do, as Sasha Bore mentions she's into the scat portion of the song (pun noted), but the Minj gives it to Mrs. Davis instead. Also, Ginger admits to Ru that she hasn't done much dancing in her career while Jaidynn admits (much to Ru's confusion) she may or may not have done much spoken word lipsyncing as well. Rehearsals with choreographer Jamal Sims give us the worries we need so the actual performance looks amazing later. Katya, Pearl, and Fame have the rhythm of a Bill Nye the Science Guy step team. Despite her Broadway Brunch background, Ginger is totally caught up on the choreo.  Back in the Workroom the hairspray chit-chat focuses around the importance of being able to "perform" as a professional drag queen (Oop moment: Ginger says Fame is #NotAPerformerPerformer). Kennedy reminds us to "be careful of the things that you say, you'll have to remember what you said." #PREACH. Jaidynn gives us giggling B-roll between the shade. Jasmine is of the mindset that if you can't perform then "you're just playing dress up and going to the clubs." HEARTFELT MOMENT: Fame shows she does have a heart behind the tattoos and couture, showing us pictures of her family and telling the ladies about her deceased grandfather who helped raise him *cue opportunity for Trixie to touch Fame*.
MAIN STAGE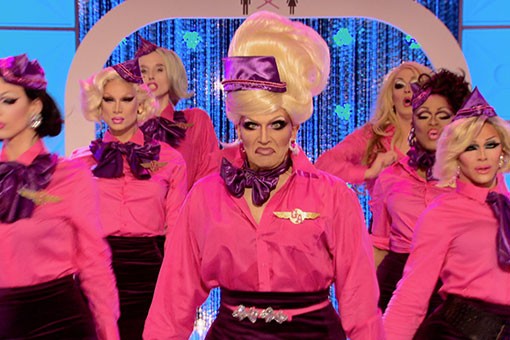 LogoTV
Guest judges, yes plural due to Ross' absence, were word-on-the-street RPDR superfan Jordin Sparks and the Queen of Hyphenation Olivia Newton-John. The Glamazonian Airways flight safety number began with Trixie's team, and a very sloppily lipsynced
Shirley-Q-Liquor-esque
monologue by Katya ("we were all rooting for you" gif here). Pretty boys Pearl and Fame somehow managed to bore us during the most danceable part of the number, but team captain Trixie kept it together for them... or maybe you just can't help but laugh at her paint job. Violet showed off her Tiniest Waist in RPDR Herstory with a song that sounded like a P!nk demo. Ginger's portion started off with soul and not a misstepped hoof to be seen. Kandy was surprisingly sultry in her blow-up pilot lapdance, but leave it to Sasha to "Fuck it up". Luckily for them AND us, Mrs. Kasha Davis saved the day with her camped-out scat medley, complete with fart sounds, because why not. Our fast-forward fashion portion of the runway had a "Jetset Eleganza" theme, ranging from the obvious luggage-toting and scarf-wrapped-wig wearing glamour of Fame/Max/Pearl to the "bitch you ain't wearing that on a plane" of Jasmine, Violet, and Sasha. Trixie, Max, Pearl, Jasmine, Jaidynn, Kennedy, Kandy were all safe and were sent off with a battalion of long-flight "buhbyes" from the judging panel. Sasha was read by Miss Sparks for her lame attempt at a sensual hair release during the number, and by Michelle for her Lady Bunny realness later. Visage also had my fave #ClockedMoment when she told Mrs. Davis her dress was from Cache! Aside from Fame, most of the ladies had mixed reviews between the performance and runway. Ginger turned out a win, while inevitably (read: finally!) Sasha was in the bottom two with Katya. Song choice for the LFYL went to miss Olivia for her "Twist of Fate," which was ultimately boring in the end. Katya couldn't rely on her wit or asshole, so she resorted to "pounding her vagina" on the runway with a high-flying split or three! Sasha was there...somewhere. My girl Katya won, and Ru redeemed her mistake from last week by sending Sasha back home to re-read her "Winning RPDR For Dummies".
UNTUCKED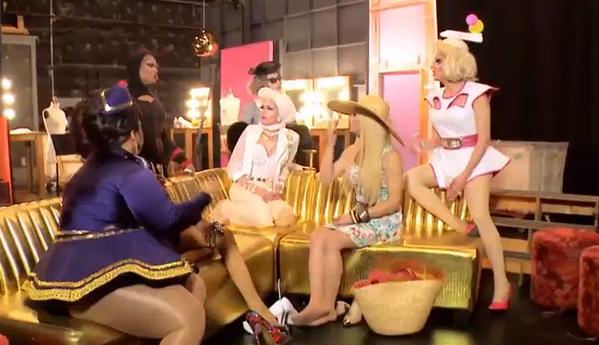 World of Wonder
This week over on World of Wonder's
YouTube,
we watch the safe safety queens mosey backstage in blazing black and white. Ol' Jasmine can't run off the stage fast enough, praising all her saints for being safe this week. Conversation soon centers on Pearl, who goes on record for, contrary to popular belief, "caring". #GASP. Trixie throws some slight shade her way saying she just threw that look together and was sweating in her routine, but later feels the shade from Ginger's team members who say their portion was better than hers. Trixie claims she picked girls who she thought had a great look, could, move, and were funny, but was shocked to find out that most of them could only deliver on one of those points, much to Kennedy's point ("when the dogs are really barking, they really don't know nothing"). Pearl conveniently asks Jaidynn, Kennedy, and Jasmine who they thought would be in the bottom from their team, and their response was a resounding, "SASHA." Trixie tried to give her a bone saying Sasha "might be a comedy queen" but either you're funny or you're not. Miss Mattel herself began to admit that she doesn't intend to do comedy, and Jasmine reminds her that she has the same silly look every time. It get's rull tense on that golden couch as Trixie defends her aesthetic and tries to come for Jasmine's, but you can't shade a tall palm tree like Miss Masters and get away with it. They both agree to not get it. Oh and Jaidynn just says what we all want to say to Pearl: "I may have to ride your face later." End quote. Also, we discuss how close Trixie and Fame are getting #AwkwardTea. The other half of the ladies join them on the Big Golden Couch, where Lady Bunny...er Sasha Belle realizes she is going to lipsync even though "she came here to win". Fame gets a lesson in #DontRelyOnYourPretty and then Ginger gives us all a lesson in What Not to Wear in First Class. We continue to play Defend Your Drag with Trixie, but do get a nice moment of realness between Ginger and Pearl. Minj admits she wrote Pretty Pearl off a little short, but has changed her tune with this latest look from Ol' Sleepy Eyes. Max gives Sasha some consolation while she's memorizing her LFYL song, which makes me kind of feel bad... kind of... Like punching a baby piglet, we watch Sasha pack up her shit and say, "at least I didn't go home first." Yeah, honey, sure.
Well on to another week! Remember: DON'T FUCK IT UP! *cackle*
Keep Up With PopWrapped On The Web!