WHAT. A. SEASON!!!
Season 7 of 'RuPaul's Drag Race' 
has now come to an end and we finally found out tonight, who RuPaul crowned as the reigning Drag Race Superstar!
Oh.....you all want to know don't you? 
Was it Ginger Minj? Maybe Violet Chachki? Or what about Pearl?
Well, RuPaul was doing things a little different this year, as it was revealed that each of the remaining queens would be performing one final lip sync performance to help Ru make her decision. 
Each performance was tailored to each of the queens, starting with Ginger Minj slaying with a gospel tinged act. Ru then sat down with the Glamour Toad to discuss the competition as well as a very special surprise:
A video package from family support, including Ginger's estranged Dad!! The tears were flowing and Ginger reminded all of the fans, she didn't want to win because she was a big girl, she wanted to win because of her talent alone. 
Up next we had Pearl!!
Performing a hilarious sleepwalker routine, Pearl continued to come out of her shell, and while it may not have had the energy like Ginger's, it was still a lot of fun.
Pearl sat down for some fan questions and got one from the always hilarious, season 5 contestant (and future All Star?) Alaska, who asked:
"Why does everyone want to f**k you?"
HA!
It's so very true.
Anyways, back to the final contestant!
Violet Chachki stormed the stage with a killer burlesque routine, and comparing all of the numbers now?
This bitch Violet wins HANDS DOWN. While many have complained about Violet's attitude throughout the course of the season (yours truly included), nobody has been able to match her stunning runway looks. From her constantly cinched waist, to her FLAWLESS Hello Kitty look, and who can forget this?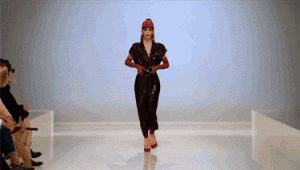 vulturemagazine
Okay, have I made you all sweat it out enough?
After one last night of competition, RuPaul had finally made the choice out of the 3 remaining queens. She was joined by last years queen Bianca Del Rio.....and following an extra added bit of tension with Katya.....she announced the winner:
VIOLET CHACHKI!!
Let's take a look back now on how the evening unfolded!!
All 14 queens returned for a sit-down with Ru to discuss all of the happenings throughout the season, which included the following:
- Jasmine Masters hilariously, inadvertently shading Kennedy by revealing her her 'older' age
- Mrs. Kasha Davis being as funny as ever taking shots at Violet's waist and the young girls
- Max discussed being mentors for Jaidynn and Fame during the ShakesQueer challenge
- Speaking of Jaidynn, Miss Dior Fierce was caught off guard with a surprise video from her mother regarding Jaidynn being gay. The video brought tears to the fabulous queen.......and everyone else.
- Fame opened up about receiving letters from fans
thanking her for opening up about sobriety
- Trixie Mattel gave her best RuPaul impression
- Katya hilariously explained her awkwardness early on in the season. 
It was time for Miss Congeniality!!!
In an amazing turn of events, last years winner of that title Ben Dela Creme returned alongside judge Michelle Visage in a mock of Ginger/Sasha Belle's bosom buddies outfit (except much more polished) and announced that none other than Katya was this years Miss Congeniality!!
I
It's been one HELL of a season kittens.....
Did YOUR favorite win?