The wave of comic book movies is never ending! In addition to the superhero films coming out of the Marvel, DC, and Fox camps, Ryan Gosling (yes, that Ryan Gosling) has signed on as producer for an adaptation of The Underwater Welder.
Originally written and drawn by critically acclaimed artist Jeff Lemire and published by Top Shelf/IDW, The Underwater Welder follows Jack Joseph, an offshore oil rig worker who encounters the ghost of his father. Joseph is about to become a father himself, and the subject of fatherhood is thoroughly explored throughout the graphic novel. In addition to the trials and tribulations of fatherhood, the story also deals with the extremely dangerous profession of underwater welding.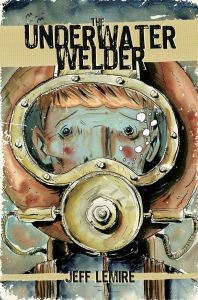 IDW Entertainment
"The New York Times bestselling graphic novel details a man in the dangerous profession of underwater welding, who has a supernatural encounter at the bottom of the sea," reads the official synopsis from the press releases, which can be found here.
At the moment, there are no actors, directors, or screenwriters associated with the project. Alongside Gosling, Ken Kao/Waypoint Entertainment and Anonymous Content will also act as producers for the film. Past projects of Waypoint Entertainment include Hostiles starring Christian Bale and Rosamund Pike, The Nice Guys starring Russell Crowe and Ryan Gosling, and Song to Song starring Ryan Gosling Michael Fassbender, Natalie Portman, Cate Blanchett, and Rooney Mara. Anonymous Content has previously produced their own share of critically acclaimed works, including Eternal Sunshine of the Spotless Mind starring Jim Carrey, 50 First Dates starring Adam Sandler, and Academy Award Winner Spotlight.
Are you excited for a non-superhero comic book movie? Share your thoughts in the comments section below!