Yesterday (Dec. 2), a mass shooting took place at an office holiday party in San Bernardino, California, leaving 14 dead and 17 injured. The two suspects are now dead, and though there was speculation of a third shooter on the loose, police are now saying they believe there was no third shooter involved.
At first, breaking news reports speculated three active shooters clad in military clothing and over 20 people injured.
https://twitter.com/myfoxla/status/672137074141732864
However, according to San Bernardino Police Chief Jarrod Burguan, the suspects are now known.  They are 28-year old Syed Farook, an American worker at San Bernardino County Health Department, and his wife Tashfeen Malik, a 27-year-old Pakistani immigrant.  A third suspect is in custody, though that suspect's connection to the shooting is still being investigated.
On Wednesday morning, an office holiday party was being held at the Inland Regional Center in San Bernardino.  The center strives to help those with developmental disabilities.  Farook and Malik had left their six-month-old child with the former's mother, and Farook then attended the party before he reportedly left angrily.
A while later, Farook returned with Malik, both of them carrying .223-caliber assault rifles, semi-automatic guns and explosive devices, according to San Bernardino police.  Both of them opened fire on the party, leaving 14 people dead and 17 wounded.
NPR reports that Farook and Malik's weapons were all legally purchased.
After their attack on the holiday party, Farook and Malik escaped from the center, though emergency responders had already made their way to the scene.
According to Burguan, Farook and Malik left three explosives at the center, which was then evacuated almost immediately.  They were never detonated and police disposed of them that same night.
Farook and Malik apparently escaped to a house associated with the former in Redlands, and when police responded to the site, the shooters retreated to an SUV, when the police chase began.
After a shootout with at least 20 police officers, Farook and Malik were both killed, and the terrifying day in San Bernardino was over.
Reports speculate that both Farook and Malik are Muslim, but that has absolutely nothing to do with their motives.  In fact, the family showed no signs of extremism, and at this time, motives are still being questioned.
"We don't have a motive at this point," Burguan said during his press conference.  "I'm being really careful because we all know that when these types of things happen, we've seen this happen time and time again, there's a lot of information that comes out in the first couple of days and that information changes significantly in the days that follow."
At this time, the police "have not ruled out terrorism."
There have been more mass shootings in 2015 than days of the year, and according to Washington Post, this is the 355th shooting this year.
PBS Newshour created a map, which has been shared multiple times virtually.  The display shows how many shootings the United States has been through in just one year, and as you can see, the map is just filled with red circles, each representing a mass murder.
The photo is based on information from a website called shootingtracker.com, which provides information about each mass shooting in the United States, including many that have gone unreported by the media.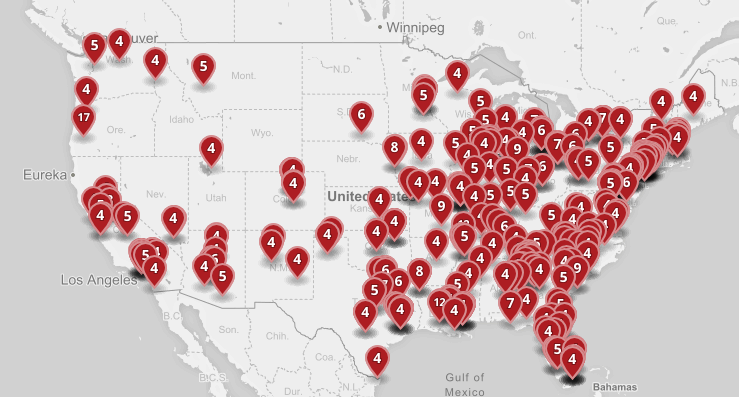 PBS
One thing is certain: the San Bernardino shooting marks yet another tragedy and act of horror in the United States.  It is becoming absolutely terrifying how many mass shootings the country has been through, as well as how many shootings the country may have to endure in the future.  Something has to give, and there must be an end to this terror, whether this is terrorism or not.
The names of the victims of this horrific attack have officially been released, may they rest in peace, and our thoughts are with each and every one of their families.