We last heard of Nicolas Cage when his latest film, Rage, premiered last May. It's known for a fact that the actor has quite a lot of movies in the works, and it's time for one of them to arrive. Left Behind, an apocalypse-themed thriller based on the books of the name is hitting the theaters in a few days and a new poster for it has now been unveiled.
The promotional campaign for the film goes on strong, with a new poster including a quote from Satan. The quote reads "Please do not bring unbelievers to this movie. — Satan" and is placed on top of a photo of people in shock and awe. If anything, it promises it's going to be one hell of an apocalypse! Take a look for yourself.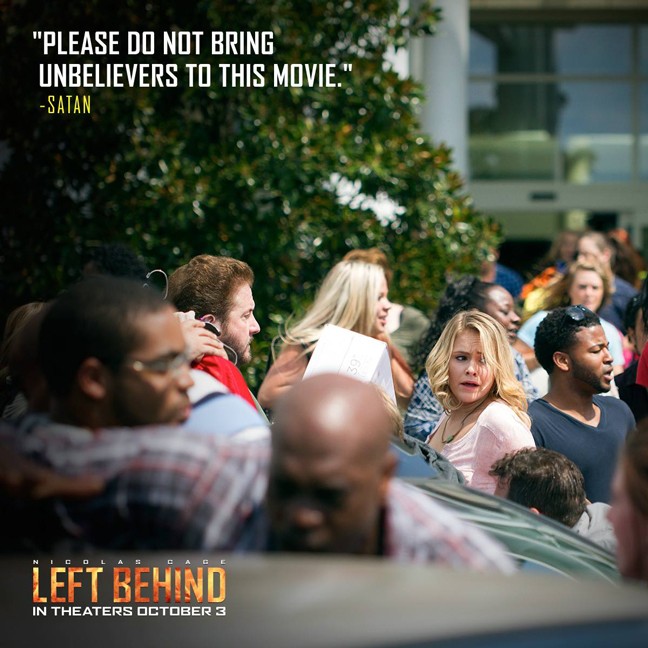 Courtesy of: The Hollywood Reporter
The script for Left Behind was written by Paul LaLonde, who was taking from Tim LaHaye and Jerry B. Jenkins' novels, while Vic Armstrong has director duties. Along with Nicolas Cage, the movie stars Cassi Thomson, Chad Michael Murray, Lea Thompson, Jordin Sparks and Quinton Aaron. The film will be distributed by Freestyle Releasing and marks as the first production of the faith-centric Stoney Lake Entertainment.
Left Behind is scheduled to open in theters this Friday, October 3.
Keep Up With PopWrapped On The Web!
Twitter 
SoundCloud
Facebook
Instagram
Tumblr
Pinterest
YouTube