"Did I die?" he quipped nonchalantly the day after his devastating announcement in February.
No, Jon, no. You did not die, but a little piece of our souls will once you abandon us to fend for ourselves during this glorified sideshow of an election next year!
But I digress.
I (stupidly) tried to prepare myself to write this.
How does one appropriately pay tribute to a man who, somehow, made politics feel less like a master list of all the reasons I need to buy a spaceship and leave this planet and more like...hope?
Over 16 years of hilarity, Jon Stewart created a new brand of satire. Whether or not he was aware of it, who knows, but I'm not sure anyone can replicate his ease, his wit, and his ruthlessness against the most unfair cobweb-riddled corners of this government.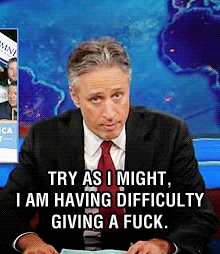 Credit: Tumblr
I'll refrain from babbling on, though. Instead, here are some of my favorite things about Jon:
Jon Stewart vs FOX News
This has been a staple of Jon's run as host of The Daily Show, and it has only gotten more and more hysterical as it progressed. FOX News has a giant target on its back (one it has put there itself, just saying), and Jon manages to hit the bull's eye every time, exposing their delusions and ignorance for what they really are without batting an eyelash.
It left me in awe (and stitches) every time.
Arbys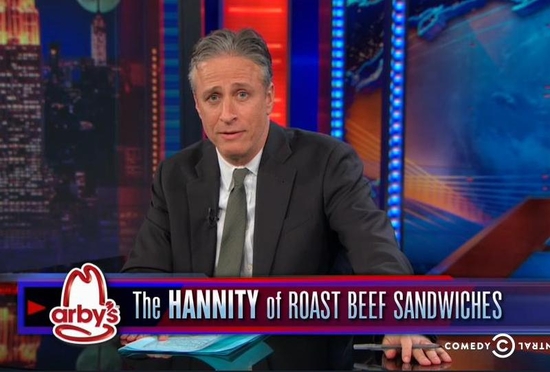 Credit: dailykos.com
This restaurant has turned Jon's good-natured ire into a cleverly-crafted public relations campaign/ode to our king of satire, even though he was completely unforgiving in his mocking of their inability to serve anything remotely edible...ever.
That laugh of his
It somehow managed to be completely adorable...despite also being somewhat girlish and downright creepy at times?
Only Jon Stewart can giggle at his own jokes on national television and remain on the air for nearly 20 years.
I'll leave you to....imagine that endearing chuckle in your heads.
Impressions
Nothing, absolutely nothing, is better than watching a man in his 50s impersonate a passive-aggressive Jewish grandmother.
Except maybe that same man impersonating Bill Clinton, Donald Trump, and a ton of conservative...erm...individuals (I'm trying to play nice here, this is about Jon).
The all-time best impression, though? Mitch McConnell...aka the elderly turtle.
His belief in the change we need to see.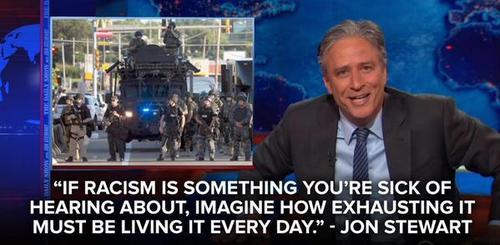 Credit: Tumblr
I want to be serious here for a minute.
Jon really has inspired hope in me. He sat on television night after night, pointing out the saddening inequalities and maddeningly prehistoric facets of this country we live in--not only did he stand on the side of what's right, but he also wasn't afraid to verbally attack those who were in the wrong.
I'm sure people will attempt to point out that his unapologetically outspoken personality may have been more widely accepted because of his race, gender, and sexual orientation.
Sure, that may have played a role. But the fact that he chose to do this--to educate young people like myself on real issues in this day and age using the universal message of comedy--and do that so very well, that just proves even more that race, sexual orientation, all of that just doesn't matter.
We all simply need to be united as human beings who stand up for what's right.
Idealistic? Maybe. But I'm sticking to it, and people like Jon make me believe we can still take this world in a better direction.
In less than two hours, the final episode of The Daily Show with Jon Stewart airs on Comedy Central.
Let's not make this the end of an era, but the continuation of one where we stay informed, unapologetically expose injustice, and encourage equality.
Even when it's not the popular thing to do.
Farewell, Jonathan Leibowitz. Whatever you do next, we'll be watching (not in a creepy way, but...you get it).