Time to suit up, Gladiators! Get ready for another fun-filled episode of Scandal! Last week, for the first time in a while, ended on a high note, with Abby and Olivia agreeing to put their differences aside just long enough to bury the hatchet in Hollis Doyle's back. Now, let's see Doyle fares against these two badass fixers! 
We open with Hollis reveling in the fact that he's ahead in the polls. At OPA, Quinn is excited about Liv and Abby working together but Huck isn't so sure it's a good thing. Abby and Liv agree not to campaign against each other until Doyle goes down. However, Liv orders the team to dig up dirt on Susan, just in case Abby breaks the deal. At the White House, Abby orders Liz to do the same with Mellie.
Meanwhile, Susan is stressing about the cease fire, especially considering that she disagrees with Mellie on almost everything, but David tells her to keep her eyes on the prize and focus on a better future, particularly one with him. Susan is thrown by his blatant show of affection and asks him to spell out exactly what he's saying. He asks her to marry him and she agrees. (Cue the giddy girl giggles!)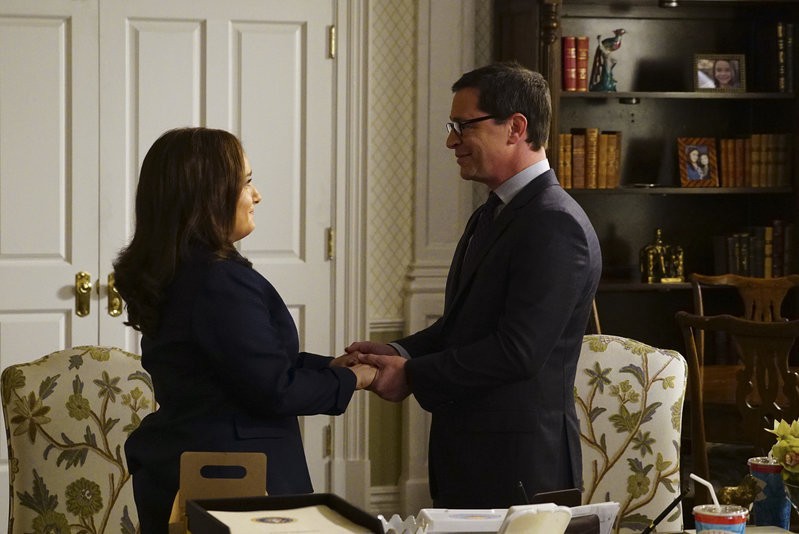 ABC
Cyrus meets with Olivia to ask for help with Vargas. He believes that Vargas would be an incredible president but he's losing to Edison in every the poll. He asks Olivia if he's lost his touch but she tells him it's not him. She says that he's losing to her father, not Edison. Cyrus asks her what the plan is but she says that there's no fighting Command and she's done trying.
Abby meets with Rowan, who gives her dirt on Mellie. He tells her that Olivia aborted Fitz's baby and asks her what she thinks Liv would do with that information. Back at OPA, Abby and Liv come in with dirt on Hollis and distribute it to the press. However, it seems that every attempt to bring him down results in him gaining in the polls as he twists things in his favor.
Edison asks Rowan why he's not speaking up about Doyle's offensive speech. Rowan tells him that he needs to cater to his white supporters and they wouldn't want an overzealous, radical black president in office, which is what he'll look like if he speaks out against Doyle. He tells him to wait until he's elected to say his piece. Edison agrees to let the republicans take down Hollis. Rowan also urges him to add Jake to his list of possible VP's but Edison is hesitant to do so.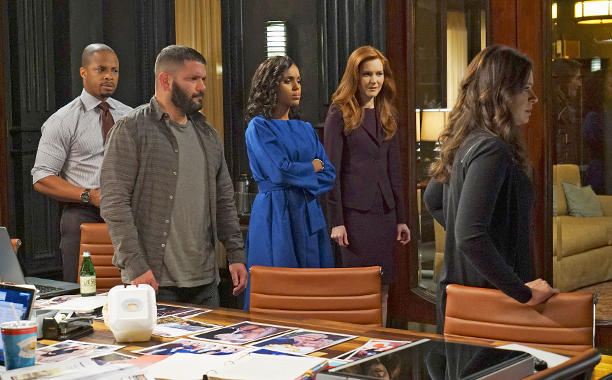 ABC
At OPA, Liv and Abby are discouraged by their lack of results. Abby suggests that they go after Doyle for his hypocritical stance on abortion—apparently one of his mistresses had one—which confuses Olivia. Olivia says that he would just twist this around and it would ultimately hurt Mellie, who tends to say the wrong things. Hollis goes on The Liberty Report and announces that which every candidate drops out first will be named is VP.
At the White House, Liz suggests that they consider Hollis's deal but Abby refuses. Liz produces the dirt on Mellie, which is lackluster to say the least. Apparently Mellie saw a psychic after Gerry's death and Liz thinks they can use it to show oversensitivity. Abby is hesitant to use it but Liz—unaware of Rowan's dirt—says it's all they have.
Elsewhere, Mellie asks Marcus if she should take the VP spot. Marcus tells her that she's going to win and she thanks him. Rowan ambushes Liv at her apartment and tells her to take the deal. Liv says that he's only pushing the deal because he's scared to face Mellie in the primary. Rowan tells her that she can't trust Abby and that if Mellie doesn't take the deal, Susan will.
Meanwhile, Edison meets with Jake to tell him that he won't consider him to be his VP. Jake tells Edison that he has no choice and that he and Rowan are calling the shots. Edison asks what happens if he refuses and Jake threatens him, stating that they won't take "No" for an answer.
Olivia meets with Hollis to discuss the possibility of Mellie being on Hollis's ticket. She tells him that she's concerned about his message but he tells her that it's all an act. Back at OPA, Abby and the team are furious that she went behind their backs but Olivia has a plan in place. She apparently recorded Hollis speaking out against his supporters and sent it to Sally, who ambushes Hollis on The Liberty Report. Hollis's supporters immediately turn on him and it looks like Liv and Abby have won.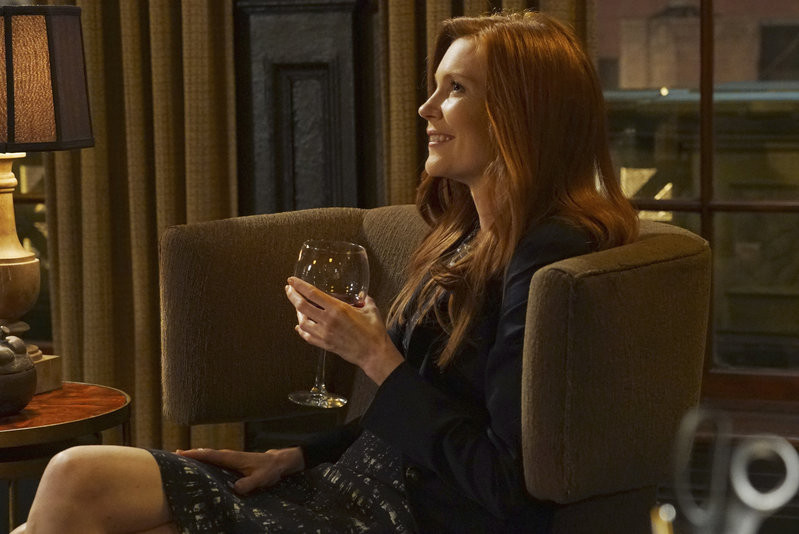 ABC
The two women celebrate at OPA, naturally over a glass of wine. They acknowledge that they're not going to be on the same side for much longer, and they agree to both not hold back. Later, Liv visits Edison to tell him that, even if he wins, her father will be running the country, not Edison. She tells him that Rowan has been stealing the election for him because he thinks he'll be easy to control. Liv encourages him to drop out of the race and hold off for next term. She tells him that he should tell the world exactly what he thinks of Hollis Doyle, and he does so in full force.
Rowan and Jake wonder why Edison decided to not follow orders. Edison calls Vargas and concedes, leaving Vargas the sole candidate for the Democratic nomination. Back at OPA, Huck and Quinn find substantial dirt on Susan, enough to make her drop out. Meanwhile, Abby investigates Rowan's dirt on Olivia, which seems to be true.
Abby and Olivia arrange to meet to discuss their respective findings. However, Liv arranges for everyone to meet in the Oval and exchange the dirt they've found, allowing the candidates to decide for themselves whether or not to allow the dirt to be used against them, or to drop out. Liv reveals that David and Liz gained Governor Baker's endorsement by illegal means, which infuriates Susan (damn, guess they're not getting married).
Then, Abby decides not to share Olivia's dirt with everyone and instead shares the story about Mellie and the psychic. Susan decides to drop out, much to Liz's dismay. Susan says that, no matter what, voters will think that she knew about David's dirty deeds, so there's no point. David comes to apologize but Susan is angry that David made her want to run for president and then took it away from her. She ends things with him, saying that he never believed in her and she needs someone who does.
Susan publicly endorses Mellie's campaign and Mellie is thrilled. Mellie and Marcus celebrate her victory and almost kiss (squeal!) but are interrupted. Later, Olivia visits Abby to find out what dirt she buried. Abby tells her that she knew about the abortion. Liv says that it would have been smart to use the dirt to shame her but that the scandal would have hurt Fitz more than anyone else. Olivia asks how she found out, and Abby tells her that Rowan told her. She says she doesn't think he's done with Olivia.
Rowan and Jake visit Edison and tell him that they know Olivia was behind his speech. Jake roughs Edison up for Rowan's benefit but when he leaves, Jake asks Edison to tell Liv that he needs her help, that he wants to escape.
Hallelujah! Thank you, Shonda! This episode was utterly amazing! It was literally like having every Shonda-related dream I've ever head realized! Vargas v Mellie will be all kinds of entertaining, especially with Cyrus's issues and Mellie's budding romance with Marcus in the mix. I was very proud of Abby in this episode for being a good human being over a good Chief of Staff. And hats off to Edison for standing up for himself—finally! The final happy dance is courtesy of Jake, who proved himself to be more than a mindless, heartbroken robot! Now, we just have to wait and see how all of this drama plays out.
But what did you think? In the race between Mellie and Vargas, who will emerge victorious? Tell us in the comments!