Music is a universal language among humankind, no matter where you come from. That universe is now extending this language to the feline world thanks to Professor Charles Snowdon, psychologist at the University of Wisconsin-Madison, and David Teie, musician and composer at the University of Maryland. According to
The Huffington Post
, the professor explains his motivations to create the mew-sic for two reasons:
"First, many pet owners told use that they play radio music for their pets while they are at work and we wondered if this had any value. Second, we have developed a theory that suggests that species other than humans can enjoy music but that the music has to be in the frequency range that the species uses to communicate and with tempos that they would normally use."
In order to create the cat tunes, Snowdon and his colleagues tried to imitate natural cat sounds--cat calls are an octave higher than human voices--basing them on purring and suckling sounds. Sounds they are more familiar with. The result? After conducting a test run on 47 male and female domestic cats in their homes, the felines reached towards the speakers and began to rub their scent glands on them to cat songs like "Cozmo's Air" and "Rusty's Ballad" in comparison to Gabriel Fauré's "Elegie" and Johann Sebastian Bach's "Air on a G String." The cats were disinterested in the latter. "Cozmo's Air" is a feline piece with a pulse running through it that matches the sound of purring with a rhythm of 1380 beats per minute, while "Rusty's Ballad" used a rhythm of 250 beats per minute that mimics the rate of kitten suckling. As for the human songs the researchers chose, they picked Fauré's "Elegie" due to it's similarities with the human resting heart rate (66 beats per minute) while containing some sliding frequencies, and Bach's "Air on a G String" had a pulse rate of 56 beats per minute. Basically, the music we personally would enjoy would not be enjoyable for our feline companions. "We think that cat music will be more interesting and calming for cats than random human music, which most of us use now," Snowdon says. "It could also be of value in animal shelters where more attention has been paid to helping dogs so far than to cats." With this mew-sic, not only can shelter-cats can be soothed, our kitties at home can be, too. "We think of cats as highly independent of their human servants, but there is some research showing that cats experience separation anxiety, which is greater in human-raised cats than in feral cats," he tells
Discovery News
. An
article on the research
has been accepted for publication in the Journal of Applied Animal Behavioral Science. "A hundred years from now people will have to be taught that music was once available only to humans," the researchers explained on their website. Check out the cat version of iTunes
here
. The professor doesn't stop there. He and his colleagues are composing music for Tamarins, small monkeys found in South America, after they were shown to be indifferent to human music. Music can definitely change the world for all of us.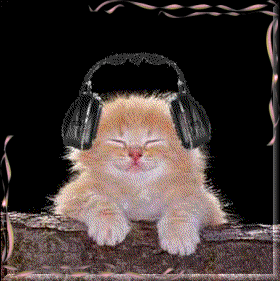 Courtesy of wildwindsiamese.com
Keep Up With PopWrapped On The Web!