On Saturday (July 11), San Diego Comic Con's room 25ABC played host to a unique panel. "The India Inkblot Test: Why Comics Are Good for Mental Health, and Mental Health is Good For Comics" explored the treatment of mental health and the associated stigma in comic books.
The medium's powerful potential as a therapy tool was also highlighted.
The panel consisted of forensic psychiatrists H. Eric Bender and Praveen R. Kambam, writer Gail Simone, clinical psychologist (and Batgirl's own psychologist) Andrea Letamendi, comedian and Project UROK founder Jenny Jaffe, psychologist and creator of Superhero Therapy Janina Scarlet, and forensic psychiatrist and writer Vasillis K. Pozios. The panel was live-tweeted by a few attendees, including Gail Simone's husband (using Gail's twitter account) and user DirectorDaniC.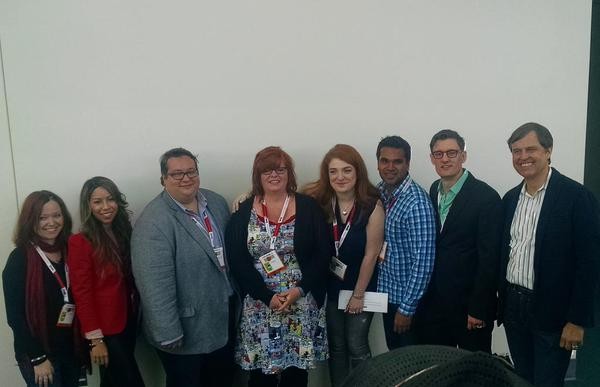 The panelists [Credit: Twitter]
With so many academic-types present, you'd expect the panel to be dry, but by all accounts it was interesting as well as informative.
There are many people who turn to comic books to help them through a variety of mental health issues. To some, comic depictions of characters dealing with, and living with, mental disorders can be incredibly helpful.
 Simone shared a moving story of a fan who found inspiration to keep going through her work on Batgirl, which was in part thanks to the assistance of Letamendi. Simone consulted with Letamendi at length about how to accurately portray Barbara's post-traumatic stress disorder, recognizing the importance of less stigmatizing depictions of mental illness in comics. Scarlet too spoke of using Batgirl's story to help a soldier who had experienced trauma, and kicked off the panel by talking about using the X-Men to help PTSD sufferers. 
The panel also discussed the importance of having a hero ask for help. When people identify and connect with a character, seeing that character seek help can be the inspiring push needed to do so yourself. Aura is a superhero with bipolar disorder created by Pozios, who said that heroes needing help too is a topic the title will address.
Jenny Jaffe spoke of her experiences wcith obsessive compulsive disorder and anxiety, as well as the motives behind Project UROK. Jaffe turned to geeky culture to help her through her illness, and created the project to showcase funny but meaningful videos about experiences with mental health issues by those who have lived it. Jaffe discussed how inspiring getting through mental health challenges can be:
https://twitter.com/DirectorDaniC/status/619939980580786176
It was really exciting to see a panel like this at a convention, and at SDCC no less. The ultimate goal of the panel was to address the treatment of mental illness and comic books, and to discuss their benefits in treating mental health issues. In order for the latter to be effective, the stories comic books present need to treat mental illness without stigma, and instead focus on honest, accurate portrayals.
Panels such as this go a long way to help, and it's incredibly encouraging to see some in the industry treat the issue with respect.