PopWrapped would like to introduce you to Sean Grandillo. He is truly a star on the rise, making his mark on Broadway, television, film and beyond.
After appearing in stage productions ofThe Lyons, Ragtime, and Project Theater's national tour of Tom Sawyer in the title role, Sean made the jump to television on HBO's Boardwalk Empire. He then landed a recurring role on ABC's Secrets and Lies as Cooper, debuting in a big way by socking
 Ben Crawford (Ryan Phillippe) in the jaw. On the feature side, Sean appears in the gritty indie Madtown, starring Milo Ventimiglia. He also just finished a film called King Cobra with Molly Ringwald, Christian Slater, and James Franco.
Up next, Sean is returning to the theater in Spring Awakening on Broadway at the Brooks Atkinson Theatre, playing the role of Otto and leading the onstage band or musician/actors on multiple instruments. He also just filmed an episode of Law and Order SVU.
Check out our Q&A below for more details on this very busy young man.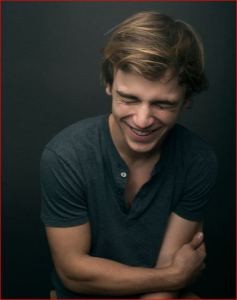 Credit: IMDB
PopWrapped: We were supposed to have our interview last week and you were working on the set of Law and Order SVU. Can you share with us a little about that experience and working on the set?
Sean Grandillo: It was amazing. Marishka Hargitay was the director. It was so cool getting to know her throughout the process, beyond what it would have been if I was just sharing a few scenes with her. I've been a Theatre actor most of my short career. Moving into TV now to get to work with someone who is such a staple like her, and to be received well by her, gives me so much confidence and, honestly, it's one of the best experiences of my life. It's
 also my first time filming 8 days on set. I'm really the star of this episode, which is thrilling. So to get to shoot something beyond the 1- or 2-day guest shoots 
was a great way to get a better feel of what the process is like.
Sean's episode of Law and Order SVU will air Jan. 13th. He plays Chris Roberts.
This week, Mariska shared on her Instagram a message directly to Sean:
PW: Staying in the realm of television questions. Was playing Cooper on Secrets and Lies one of your first television jobs?  What was it like punching Ryan Phillippe's character in the face?
SG: Yes, my first television job...which I actually got on my first audition ever in LA. Actually, my agent Tyler Grasham--he sent me in on a test to get some feedback from the director. I didn't have a reel or anything. I was a Broadway actor. I actually ended up getting it, and thats how I secured my relationship with Tyler as my agent. He has been wonderful to me. So, I got it and about a week later they flew me to North Carolina where we shot. The first day I had to make out with Indiana Evans and punch Ryan's character. Talk about being thrown to the wolves on your first day. Another funny thing about Juliette Lewis: my family and myself are just obsessed with Christmas Vacation, so meeting her, I was starstruck at that moment; she is just "Audrey" to me. She was so nice and talked to me about how she got into the business, her childhood; she could not have been nicer to me and helped me not feel so scared of the big bad TV and film industry. So that was just another great experience.
PW: I grew up loving Molly Ringwald, Christian Slater, and James Franco. You just finished a film with them called King Cobra. Please share with us a little about the film.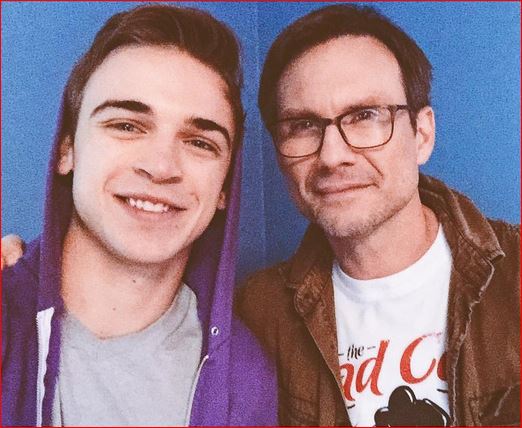 Sean and Christian Slater [Credit: Sean Grandillo/Instagram]
SG: What was great about this audition was I actually made my audition tape in my apartment with my girlfriend. So, it's 
cool to actually see that you can book a job from a tape you make in the apartment if you're right for the part. We filmed in upstate New York. I would film my scenes during the day and come do the show at night in the city. Most of my scenes were with Christian Slater, who could not be a nicer guy. He actually ended up coming to see Spring Awakening after the film wrapped. I honestly call him a friend. Director Justin Kelly has done another feature with James Franco that did very well on the film festival circuit, so I'm sure you will hear much more about this film very soon.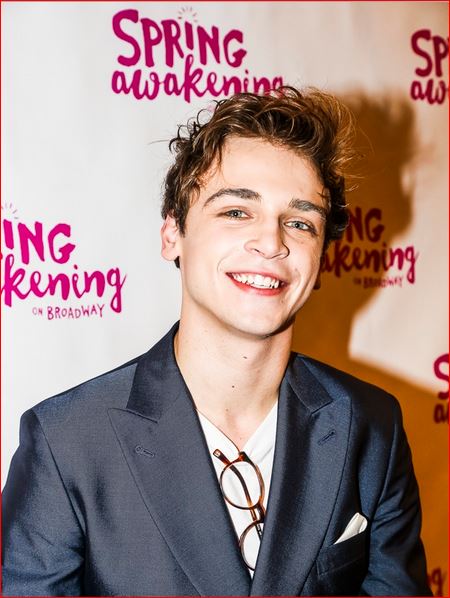 Credit: BroadwayWorld
PW: Let's switch gears and talk a little about your Broadway career. You are actually returning to Spring Awakening as Otto. Can you share a little about this latest adventure?
SG: First of all, it's 
incredible to make a Broadway debut at 22 years old. It's been a dream of mine since I first stumbled into a theater when I was 17. I didn't really have a direction and I found theater, and it's a slightly more organized performance venue. It seemed like a pipe dream, so to be here and going to work everyday on the highest level of theater in the world is a dream come true. Not to mention Spring Awakening is just special. It's also a Deaf West Theater Production, so over half of the actors are deaf; you have sign language integrated beautifully into the production. We also play all of the musical instruments the hearing actors do. It's a really cool show because everyone on stage is being asked to do things they are not used to doing. To live in New York City and be doing a Broadway show is the dream come true.
Spring Awakening, directed by the always amazing Michael Arden, is playing at The Brooks Atkinson Theater. Andy Mientus and Camryn Manheim round out the very talented cast.
For tickets, visit the official website.
For more on Sean, follow his Twitter, Facebook, and Instagram. He's
 also a singer/songwriter; check out his original music on SoundCloud.