In the first season of Billions, we saw the slow momentum of the feud between self-made but corrupt billionaire Bobby Axelrod (Damian Lewis) and son-of-privilege US Attorney Chuck Rhoades (Paul Giammatti).
So far, Axelrod has been able to escape the hands of justice, as Rhoades struggled to tie up his rival for charges of insider training.
And then, of course, there is the added dynamic that his wife, Wendy Rhoades (Maggie Siff), is a highly-paid performance coach for Axe Capital, the billionaire's hedge fund company.
The first season ended with Wendy leaving both men, in a sense, so Axelrod loses a close colleague and confidant while Chuck loses his wife. This culminated in a face-off which seems to lampshade what we'll be in for in the second season -- something which the newly released trailer attests to.
All gloves are off, as the seemingly polite back and forth that occurred beforehand is now gone. We all know that it was because Wendy was the main linchpin that prevented both men from going all out with each other.
Without her, all hell breaks loose. It may not be a love triangle, but it is still just as messy.
Wendy appears to be making strides on her own in the upcoming season, as she cuts off any offer to go back to Axe Capital and to work on her marriage with her husband. Both men want her back in their lives for vastly different reasons, which makes one wonder if it is all just part of the game for both of them?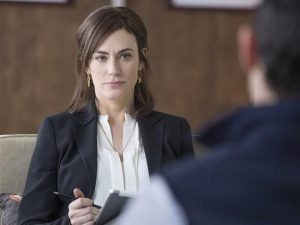 yahoo.com
And, speaking of wives, there is also Axelrod's faithful and equally ruthless partner in life, Lara (Malin Akerman). She is just as capable, and may have her own way of winning their war with Rhoades -- plus she actually hates Wendy. So what role will she play in this complicated tussle: will she remain loyal, or will she take offense at her husband's non-romantic but close interest to his former employee?
We'll have to wait and see when Billions returns on Sunday, February 19 at 10pm on Showtime.