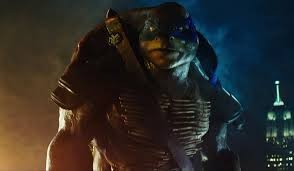 Courtesy of welivefilm.com/ Paramount Pictures
Charity Smith
Staff Writer
latest trailer
, released yesterday by Paramount, we get a better look at all the main players. The turtles themselves, their rat master Splinter, Shredder, their archnemesis, and of course the intrepid reporter friend April O'Neil (Megan Fox), and her smart-alecky cameraman sidekick Vern Fenwick (Will Arnett). Die hard fans have been concerned about Bay's influence on the franchise, particularly after statements he made regarding shifting the genesis of the turtles from mutant to alien. Though April's snarky line in the trailer would seem to put that concern to rest. Using motion capture to help animate the turtles and Splinter has resulted in a much more realistic and gritty feel (if one can reasonably call a film realistic that's based on mutant turtles) in that it has departed from the more traditional cartoonish stylization and these guys look pretty scary and intense. More mutated turtles, less people in turtle suits. While their look has changed, it seems the personalities have been kept largely intact. I can't be the only one wondering if Michaelangelo will get to keep his trademark "Cowabunga, dude!" Looks like it's gonna be high octane fun!
Teenage Mutant Ninja Turtles
opens Aug. 8
Keep Up With PopWrapped On The Web!