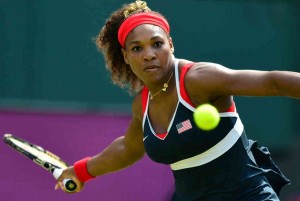 Kate McHale
Senior Staff Writer
Serena Williams as disoriented
as she was during her match was quite alarming. It's always a tough pill to swallow as an athlete when you are not able to perform up to your highest ability. What is even worse is when a mystery illness takes you out of arguably the most important tournament of your season. During a doubles match with her sister, Serena was visibly disoriented and weak before she was forced to withdraw from the match. Based on
ABC News:
Serena was showing signs of trouble early on as she had a hard time handling the ball during warm ups for her doubles match today. Supposedly, she was having difficulty bouncing, catching, and serving. Serena wound up double faulting four times in a row; eventually she had to quit after just three games.
However, the match almost never happened, as Serena was feeling quite ill before she hit the tennis courts, but after she visited the medics she decided to press on anyway. Fans both at Wimbledon, and watching on TV, could tell something was terribly wrong with the tennis superstar. Officials informed fans that Serena was suffering from a viral illness. She later released this statement, "I thought I could rally this morning, because I really wanted to compete, but this bug just got the best of me."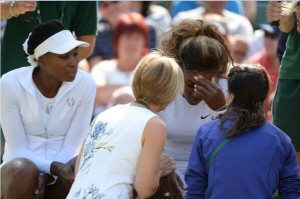 Hopefully Serena is able to bounce back from this illness better than ever! Get well soon!
Keep Up With PopWrapped On The Web!