I am frothing at the mouth right now and it's not because I need to eat lunch. Just a couple hours ago, the Governor of Indiana, Mr. Michael Pence,
signed the Religious Freedom Restoration Act into law
. As a Hoosier, I can't put into words how outraged and disgusted this makes me feel. We now have a law in our state that gives businesses the right to discriminate based on religious values. WHAT?! So not only did Pence (who I did not, nor will I ever vote for) sign this bill, he did it in private. As a man 'of the people' he didn't have the courage to sign it in public, as the outcry against the bill made him quake in his bigoted booties. Indiana is a
gay-marriage friendly state
(YAY), and this is a knee-jerk reaction to that very fact. If you can't stop someone from doing something, why not limit the things they can do - right?
I signed SEA 101 today to ensure religious liberty is fully protected under IN law http://t.co/vCOASZBZnH pic.twitter.com/CMFJh6aLDx — Governor Mike Pence (@GovPenceIN) March 26, 2015
Liberty. He used LIBERTY in his tweet. Ugh. I'm desperately trying not to fall back into a rage spiral, I promise. The law
cleared the Indiana House on Monday
, with an overwhelming vote (that was mostly Republican), which led to it dropping on Pence's desk this morning.  The law is modeled around a federal law known as the Religious Freedom and Restoration Act, which was a crucial part of the Hobby Lobby case, and we all know how that natural disaster turned out. Indiana is not the only state to have this heinous law in act, with 19 other states being perfectly okay with veiled discrimination. There has been an outcry from Hoosiers and LGBT-allies over the last few days, pointing out that no matter how the state wants to say it, this is a law that gives Hoosiers the legal right to discriminate.  Gen Con, the largest gaming convention in
the world
, is
threatening to leave
Indianapolis, as they do not agree with the law, which would deprive the entire State of Indiana of $50 million worth of revenue. Adrian Swartout is the CEO of Gen Con LLC, and he
sent Pence a letter
stating the convention's disagreement with the RFRA: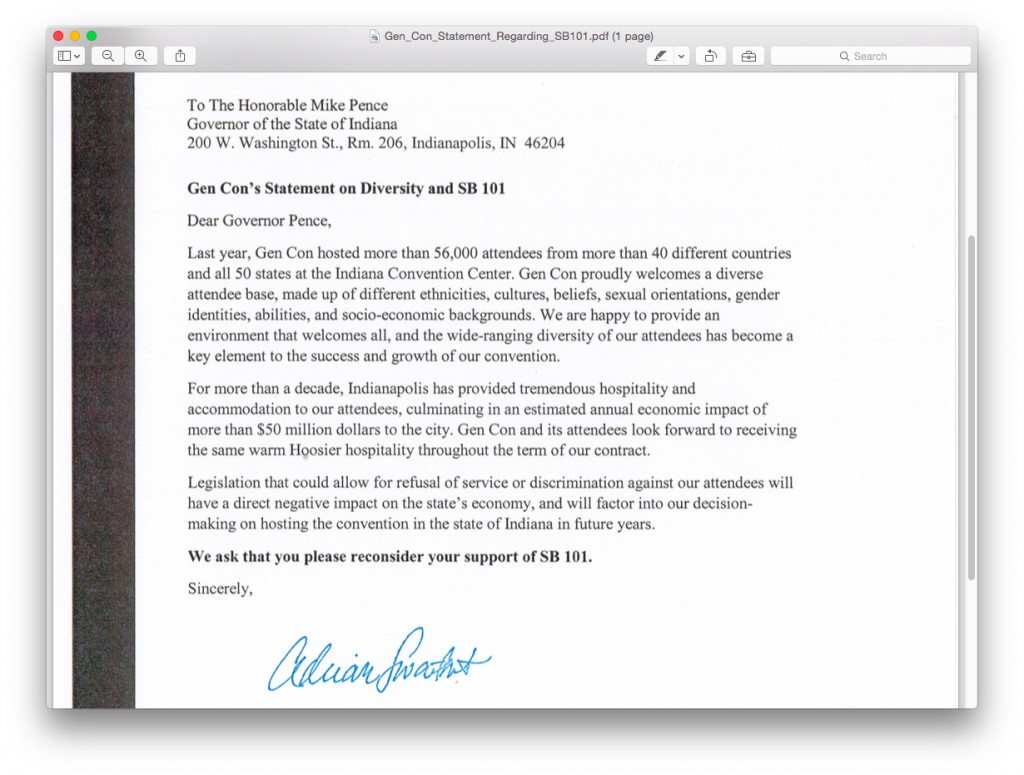 Courtesy of Nuvo
Gen Con has released an official letter to Indiana Governor Mike Pence regarding Diversity and SB 101. http://t.co/GN5zax88HO — Gen Con (@Gen_Con) March 24, 2015
Having had the honor of being able to
attend Gen Con last year
, this is so sad. It was such a
wonderful experience
and it drives a colossal economic impact for Indiana and especially Indianapolis. Please, Gen Con, don't go. I'll bake you cookies! The Final Four is also coming to Indianapolis next week - another huge event for that wonderful city. Former NBA player Jason Collins, an out and proud gay man,
questioned if discrimination was going to be a real problem
at the Final Four this year.
.@GovPenceIN, is it going to be legal for someone to discriminate against me & others when we come to the #FinalFour? http://t.co/uBlKbIf8YK — Jason Collins (@jasoncollins98) March 23, 2015
Thankfully, the CEO of the Indianapolis Chamber of Commerice, Michael Huber tweeted back to Collins, assuring him that not all Hoosiers are awful people:
Hey @jasoncollins98, @indychamber opposes the proposed RFRA, and Indy will welcome you and ALL visitors to our town. See you next week! — Michael Huber (@michael_j_huber) March 24, 2015
The legendary George Takei even
took notice of our little state
, posting to his Facebook to fight back against the bill, and followed up with outrage once the bill was signed:
(March 24): The Governor of Indiana has indicated that he will sign SB101—a law that allows businesses to discriminate against customers based on the proprietors' religious beliefs. This bill is strikingly similar to one proposed—and vetoed due to public outcry—in Arizona. Such laws harken back to a time where our society was divided, and people of color were banned from white establishments. That is not our nation any longer, and those are not our values. To the governor and to the legi

slators in Indiana who support this backward-looking and divisive bill, I say to you this: If it goes into effect, Indiana will be marked as a state where certain people are not welcome, and so we will not visit. We will not spend. And we will not attend events, including GenCon, the world's largest gaming convention, held in Indianapolis each year. Many fans here are gamers, Governor Pence, and we will demand the convention move out of your state.
Fans, friends and especially you gamers, let Governor Pence know how you feel about this bill. Give him a call: 317-232-4567. (March 26): I am outraged that Gov. Pence would sign such a divisive measure into law. He has made it clear that LGBT couples, like Brad and me, are now unwelcome in his state. The notion that this bill was not driven by animus against our community is belied by the record and frankly insulting. I will join many in demanding that socially responsible companies withdraw their business, conferences and support from his state and that LGBTs and our friends and supporters refuse to visit or do business with Indiana. It is a sad day for the Hoosier state, and indeed for the many good people of Indiana, for whom this law now stands as a terrible blight upon that state's reputation.
On behalf of a good number of Hoosiers, we are sorry. There is no way we want you to feel not welcome in our state or that we don't love and appreciate you for who you are. We are raised to know, respect and share what is widely known as Hoosier Hospitality. It's a thing of pride when people compliment us on being so damned nice! We want you to feel like you're at home while visiting Indiana, to be comfortable and happy in your travels through the crossroads of America. It is with a heavy heart I have to write this article and can only hope you forgive the gigantic error our medieval-minded legislature has made. Lastly, if you're living in Indiana and reading this, remember one thing - we can vote these people out of office. Show up with me in 2016 and help start to right the wrongs. I even have this
nifty little list
of the culprits who voted for this law: Lloyd Arnold, R – Leavenworth Michael Aylesworth, R – Hebron Ron Bacon, R – Boonville Jim Baird, R – Greencastle Robert Behning, R – Indianapolis Bruce Borders, R – Jasonville Brian Bosma, R - Indianapolis Mike Braun, R – Jasper Dr. Tim Brown, R – Crawfordsvile Woody Burton, R – Whiteland Martin Carbaugh, R – Fort Wayne Bob Cherry, R – Greenfield Tony Cook, R – Cicero Casey Cox, R – Fort Wayne Wes Culver, R- Goshen Steve Davisson, R – Salem Tom Dermody, R – LaPorte Dale DeVon, R – Granger Bill Fine, R – Munster Bill Friend, R – Macy Dave Frizzell, R – Indianapolis Randy Frye, R – Greensburg Douglas Gutwein, R – Francesville Dick Hamm, R – Richmond Tim Harman, R – Bremen Bob Heaton, R – Terre Haute Christopher Judy, R – Fort Wayne Mike Karickoff, R – Kokomo Eric Koch, R – Bedford Kathy Krieg Richardson, R – Noblesville Don Lehe, R – Brookston Dan Leonard, R – Huntington Jim Lucas, R – Seymour Kevin Mahan, R – Hartford City Peggy Mayfield, R – Martinsville Jud McMillin, R – Brookville Wendy McNamara, R – Mount Vernon Douglas Miller, R – Elkhart Bob Morris, R – Fort Wayne Alan Morrison, R – Terre Haute Sharon Negele, R – Attica Curt Nisly, R – Goshen David Ober, R – Albion Julie Olthoff, R – Crown Point John Price, R – Greenwood Rhonda Rhoads, R – Corydon Donna Schaibley, R – Carmel Hal Slager, R – Schererville Ben Smaltz, R – Auburn Milo Smith, R – Columbus Ed Soliday, R – Valparaiso Mike Speedy, R – Indianapolis Greg Steuerwald, R – Avon Holli Sullivan, R – Evansville Jeff Thompson, R – Lizton Jerry Torr, R – Carmel Randy Truitt, R – West Lafayette Matt Ubelhor, R – Bloomfield Heath VanNatter, R – Kokomo Thomas Washburne, R – Vincennes Tim Wesco, R – Osceola Denny Zent, R – Angola Cindy Ziemke, R – Batesville
Keep Up With PopWrapped On The Web!