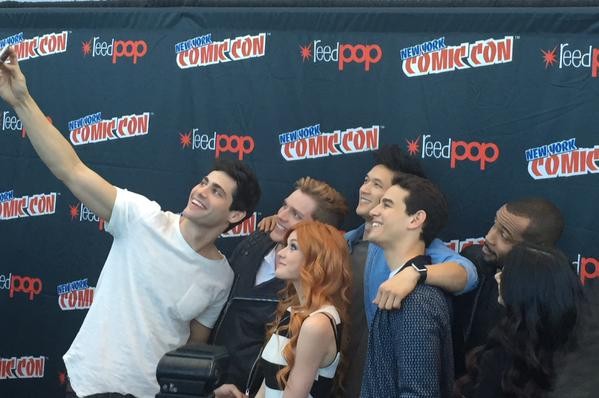 Freeform's newest fantasy drama, Shadowhunters, made its New York Comic Con debut this past October to interact with the fans and introduce the series to new audiences.  
Fans of the book series The Mortal Instruments are curious to see how closely this television series will follow the course of the books. Dominic Sherwood, who plays Jace Wayland in the series shared that "there are so many elements to [the show]. The books were a big deal, and on top of the that the movie. So, this is kind of the third installment, as it were, of this world. We are reimagining it; we're not reinventing the wheel...but we are doing it our own way for the first time. It's not in anyway related to the movie. The books are kind of our guideline, but not the scripture."
He went on to say that he thinks the adaptations made are "exciting because if we were to use the books as scripts, everyone would know exactly what happens, and when it happens, and why it happens, and who Jace was, and who Clary is, and who the characters are, and their relationships...and because we're not doing that, I think it's more exciting." 
Katherine McNamara, who plays the protagonist Clary Fray, went on to say that because fans are already "somewhat familiar with the world, [the show has] the opportunity to expand on it and change a few things." The creative team and cast are able to make their "own interpretation of what already exists," which McNamara says she thinks is a lot of fun. 
Based on the bestselling young adult fantasy book series The Mortal Instruments by Cassandra Clare, Shadowhunters follows 18-year-old Clary Fray, who finds out on her birthday that she is not who she thinks she is, but rather comes from a long line of Shadowhunters – human-angel hybrids who hunt down demons. When her mother, Jocelyn, is kidnapped, Clary is thrown into the world of demon hunting with mysterious Shadowhunter Jace and her best friend, Simon. Now living among faeries, warlocks, vampires and werewolves, Clary begins a journey of self-discovery as she learns more about her past and what her future may hold.
Shadowhunters is produced by Constantin Film and executive produced by Ed Decter and McG. The series stars Katherine McNamara as Clary Fray, Dominic Sherwood as Jace Wayland, Alberto Rosende as Simon, Emeraude Toubia as Isabelle Lightwood, Matthew Daddario as Alec Lightwood, Isaiah Mustafa as Luke Garroway, and Harry Shum Jr. as Magnus Bane.
Check out our interviews with the cast below, and be sure to watch the series premiere January 12 at 9/8c on ABC Family!
https://www.youtube.com/watch?v=UFvMULRy5A8&h=500 https://www.youtube.com/watch?v=N9Q1_mkf-O4&h=500 https://www.youtube.com/watch?v=iT7QTY0Qrw8&h=500 https://www.youtube.com/watch?v=rCBZHMEKeu4&h=500