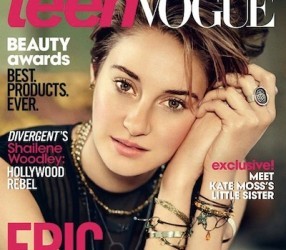 Courtesy of Teen Vogue
Shane Avery Senior Staff Writer
@ShaneAvery
Maybe she's just saying this to give publicity to her upcoming series 
Divergent
? Shailene Woodley recently 
sat down with Teen Vogue
 magazine and while it was mainly to promote her upcoming film 
Divergent
, she had some harsh words for the 
Twilight
 series!
She said:
"Twilight, I'm sorry, is about a very unhealthy, toxic relationship. She falls in love with this guy and the second he leaves her, her life is over and she's going to kill herself! What message are we sending to young people? That is not going to help this world evolve."
What do you guys think? Do you agree with Shailene?? Her issue of 
Teen Vogue
 will hit newsstands in April.
Keep Up With PopWrapped On The Web!
http://www.PopWrapped.com
http://www.Twitter.com/PopWrapped
http://www.SoundCloud.com/PopWrapped
http://www.Popwrapped.Tumblr.com
http://www.Facebook.com/PopWrapped
http://www.Instagram.com/PopWrapped
http://www.Pinterest.com/PopWrapped
http://www.YouTube.com/PopWrapped