The social media app Instagram is making it's debut in the scripted format with Shield 5. There are 28 scripted episodes that will be released each day in February. Episodes are 15 seconds and are also paired with a photograph. Created and directed by Anthony Wilcox, Shield 5 is being called "social cinema."
Shield 5 tells the story of John Swift, a security driver who is wanted for murder and armed robbery. Being accused of killing his partner and stealing diamonds, John goes on the run from police to buy time to prove his innocence and find those who framed him. Hiding in the streets of London, John is "embroiled in a perilous game of cat and mouse, will he be able to evade capture long enough to uncover the truth?"
Follow along with the story at shieldfive on Instagram. New episodes are released at 5pm GMT (12pm EST/9pm PST). Watch episode 1 titled "John Swift" below.
Shield 5 stars Christian Cooke as John Swift, Elliot Gleave (aka Example), Wallis Day and Kieran O'Brien. Written and co-created by Adam Dewar, executive produced by Julian Bird, and produced by Mark Hopkins and Declan Reddington. British television fans will recognize Cooke as Frederick Beauchamp from Witches of East End. Among many other roles, Cooke played Mercutio in Romeo & Juliet and Ross Jenkins in Doctor Who. See him below paling around with my favorite Doctor (and arguably the best), David Tennant. Elliot Gleave is more commonly know as Example, the popular EDM musician. You might have heard his hit song "Changed the Way You Kissed Me".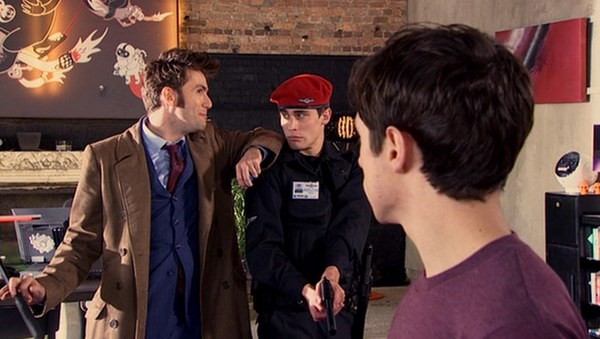 DoctorWhoReviews
What do you think of this new platform, "social cinema"? Is this another medium for artists to express themselves and actors to build up an audience? Or is it a sign of crumbling attention spans that episodes need to be reduced to 15 second clips? Let's discuss in the comments.