Shiri Appleby got her first television job on the show Santa Barbara when she was 7 years old, after doing commercials for 4 years. She has been working non-stop ever since she was 3, so she is pretty used to be in front of the cameras. Most known for playing Liz Parker in cult series Roswell, and for her roles in Life Unexpected and Girls, Appleby now stars as Rachel Goldberg in Lifetime's groundbreaking and Peabody award-winning show UnREAL.
After acting practically her whole life, Shiri Appleby now fulfills a lifelong dream, to step behind the cameras. She has directed UnREAL's sixth episode of its second season, Casualty, which aired last night. The episode is chaotic and surprising in the best way possible. And Appleby really captures everything that is going on. She has done a tremendous job directing this complex episode, while also perfectly portraying important scenes showing Rachel's breakdown and descent.
This is not the first time Shiri Appleby has directed; she directed an episode of web series Sketchy and an episode of web series Dating Rules from My Future Self in which she also starred, but this is the first time she directs a television episode.
We had the pleasure of speaking to her about her television directorial debut and about what is going on with her character on UnREAL. Read on to find out why she feels Rachel should not be a role model and how she has changed as an actor after experiencing directing.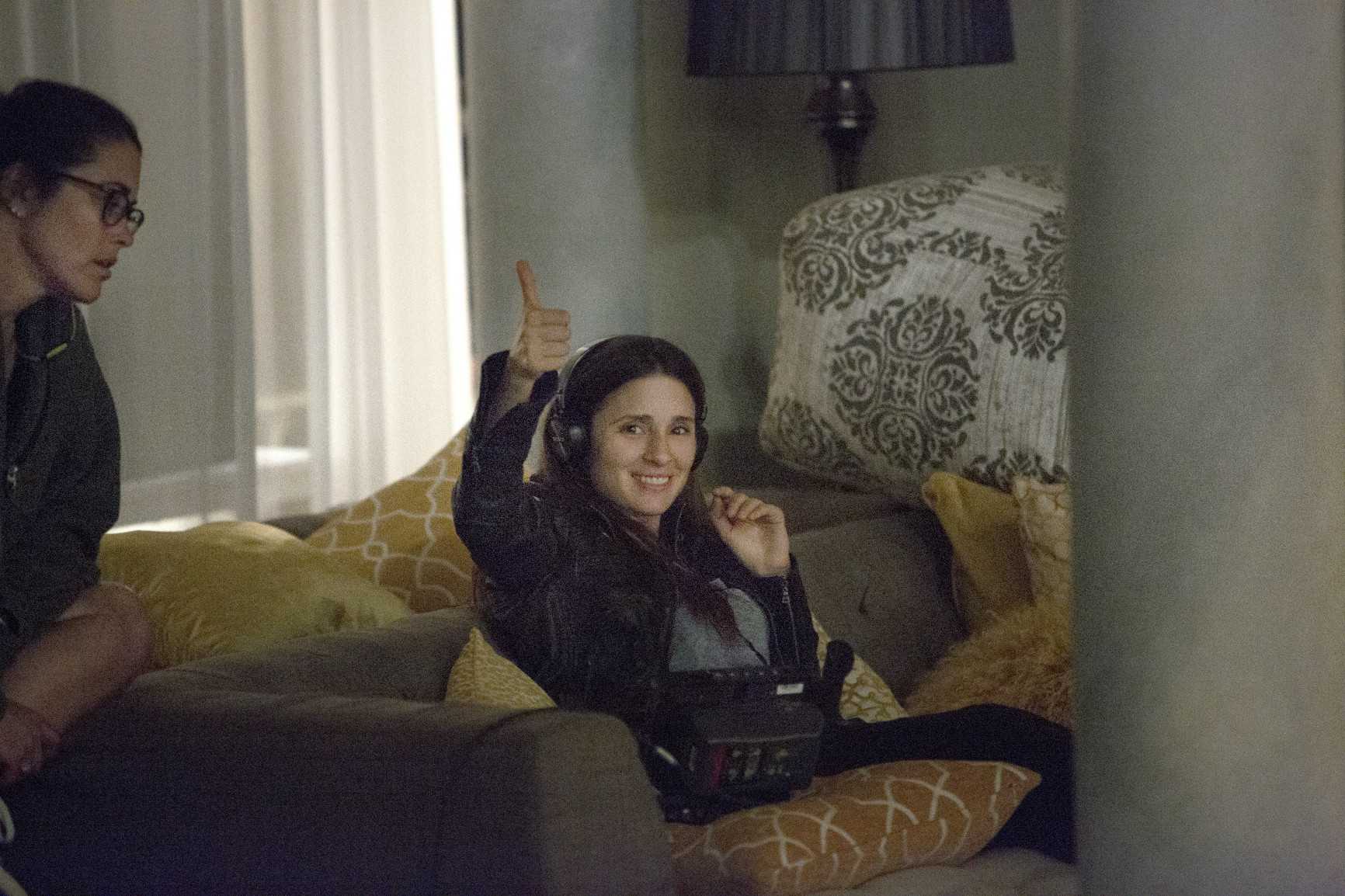 Photo by Bettina Strauss / Lifetime
PopWrapped: You directed yourself for a few minutes when you directed an episode of Dating Rules from My Future Self, but in this episode of UnREAL Rachel went through a lot. How hard was it directing yourself especially during the most difficult scenes, and separating Shiri the actress from Shiri the director?
Shiri Appleby: It actually ended up being fantastic because I gave myself so much freedom. And any sort of reservations that I have normally about trying to please a director kind of went out the window and I could sort of be much more bold in my acting choices, because I was the one that was in charge as the director. But it took me about a day or two to figure out what works best for me. I learned that I didn't necessarily want to say "action" but I do want to say "cut" because I want to keep my focus when I work out a role, in terms of being the actress, and at the same time I want to determine when I have enough footage and when I'm ready to say "cut." So it was just really learning what my style is going to be when I'm directing and acting simultaneously.
PW: Did you always want to act and direct or did you make the decision to direct somewhere along your acting career?
SA: Yes, I've always wanted to do that. I grew up acting. I've been acting professionally since I was three. And so growing up on set, the director was the person that I really looked up to and admired, and as I have matured and grown myself into a strong, capable woman I have wanted to take on more responsibilities. And directing and having more control over how the episodes are being shaped is something that I really aspired to.
PW: Do you think the experience of directing might change the way you conduct yourself as an actress in the future?
SW: Yes, absolutely. The more and more I've gotten behind the scenes in productions, I've seen and understood more so what the role of the actress really is. And I've definitely changed the way I behave and changed the way I conduct myself on set to fill out that role when I'm just the actress. I want to create an environment so that the director is getting exactly what they need and not giving them anything that would be complicating their days.
PW: I heard that this season of UnREAL will have 4 women directors out of 10 episodes, that is really amazing to give women the opportunity to direct.
SA: Yes, it's been fantastic.
PW: And of course the showrunners and leads are also women. How is it working in such a female-led environment?
SA: For me it's nothing unusual because most of the television shows that I starred in have been written by women. So having the women behind the scenes hasn't been anything that has been abnormal to me. But it has been really exciting to have Constance co-leading the show, and having two strong women at the center of it. So that has been very exciting and very interesting to see the response that we get from the reporters and from audience members. I think it's just not that common.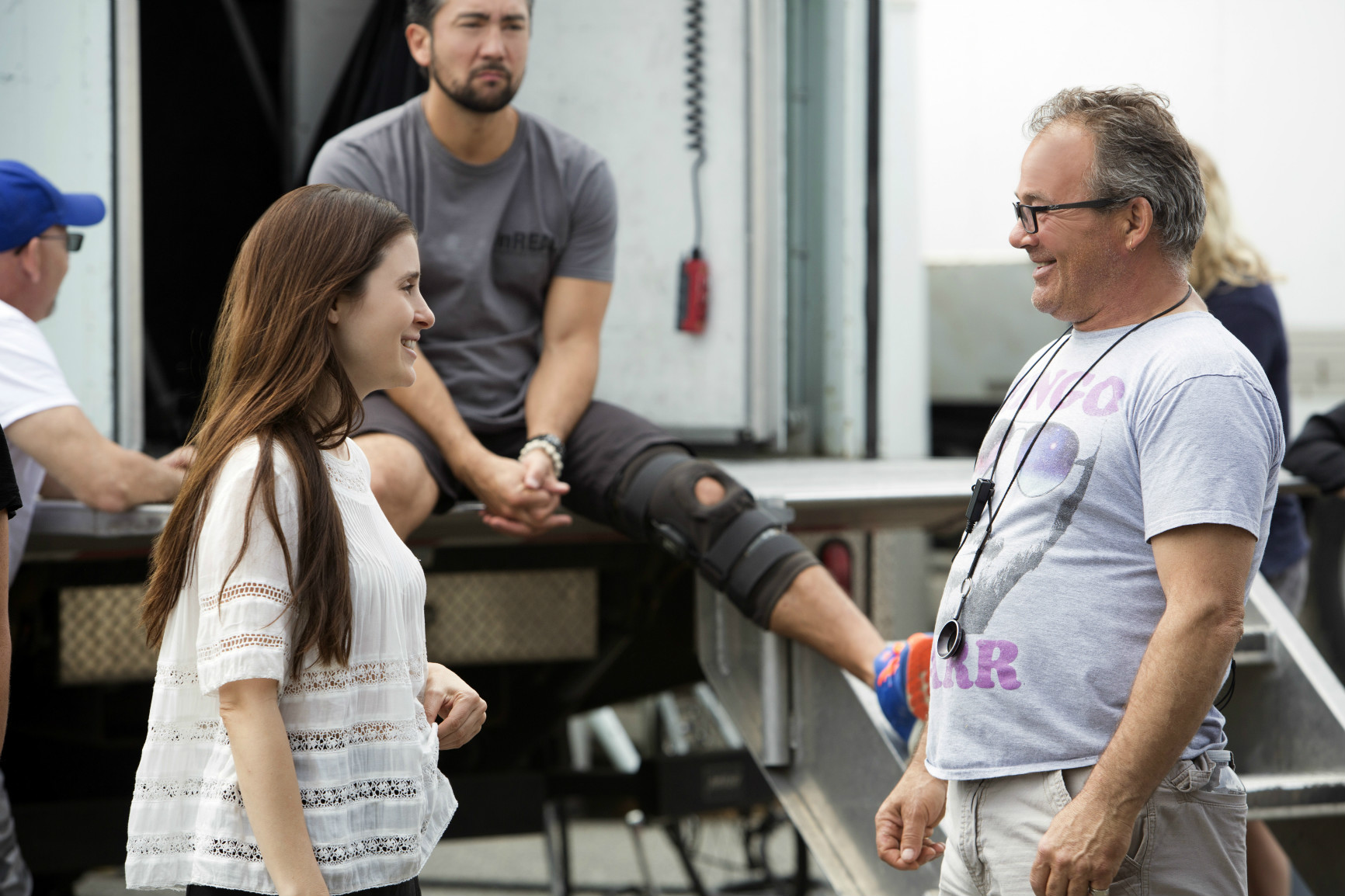 Photo by Bettina Strauss / Lifetime
PW: I like the way the scene where Coleman confronts Rachel at Beth Ann's home was shot, both from afar and with close-ups, did you choose that particular style?
SA: Yes. I also crossed the line in the scene as well. I shoot from both sides of the line, which is not how things are usually made, you usually stay on one side of the line. But because the scene is so large and the emotions are so big, and what they're discussing is really someone's moral responsibility and we start to see how Rachel is actually unraveling emotionally, I tried to come up with as many visual ways of creating the confusion and chaos and craziness from inside of Rachel's head.
PW: Now, talking about Rachel, I really feel a lot of empathy towards her, I feel that she's kind of lost and doesn't really know what she's doing, she's constantly self-sabotaging. What is your take on the character this season?
SA: For this season I feel like it's really about watching Rachel survive. Most of the situations that the writers put her in you can usually play her as a victim, but I really felt like it was important to put her in those situations and see how she could survive them. And you know, earlier on in the season, once she's been demoted from the showrunner and she's doing these horrible things to these contestants, you know, normally in the past season she would feel a tremendous amount of empathy and be very conflicted with her feelings towards these characters, but we start to see that she becomes more and more numb to it, and as the season progresses we realize how it's actually leading to her fall.
PW: After the abuse she went through from Jeremy, and not only in the last episode, he has been constantly verbally and psychologically abusing her since the end of last season, do you think Rachel staying silent and not going to the police is a good move? Do you think maybe it sends a wrong message to viewers who are abuse victims? How do you feel about her choice of not going to the police?
SA: I agree with you. It's a story point that the writers came up with and my job as the actress is to tell their story. [Laughs]. But I think it's a very fine line. And the way I kind of understand it, when having to perform it, was that she was choosing the betterment of the show and the betterment of having a family. Because this girl is really alone and she feels like if she goes to the police she risks the few people that she has, falling apart. So I think that she doesn't say anything to save that. But do I think that it should be a role model for how others act in these kinds of similar situations? Absolutely not.
PW: The scene in which Rachel has to decide if she wants to go to the police or not and Quinn just pierces through Rachel's eyes and eventually convinces her to not call the police, really made clear the tight grip that Quinn still has on Rachel. What is the status of their unhealthy relationship? Are they on the mends?
SA: Right now, no. They are still quite at odds, but at the same time there is some sort of deep connection between them. And there is an understanding that they are also covering up a death from last season, Mary jumped off the roof and all of the events that lead to that, that they would have some sort of responsibility in. So if Rachel goes to the police, she risks outing all of that.
PW: On the episode Chet says that he thinks Rachel is in love with Coleman. I don't quite agree with that statement. I feel like she's maybe in love with the idea of getting out of Everlasting and feels that Coleman is her way out. What do you think? Do you see Rachel as someone who could really fall in love?
SA: I agree with you. Rachel is not in love with Coleman. She's not in love with Coleman. He is really just another option for her, her way out. And he's also someone that is willing to stand up to Quinn for her. But she's a very manipulative character and she's very self-serving so he's just an option for her. I don't think that she really knows how to be in love because she doesn't really know how to trust people.
PW: So should I start to feel bad for Coleman? I kind of like him.
SA: That's sweet. I like Coleman too. I love Michael Rady. He's such a wonderful guy and a fantastic actor. I think it's just, you know… obviously Quinn calls Adam to do whatever she can to keep Rachel under her thumb.
PW: What should we expect regarding Adam's return?
SA: Drama. [Laughs]. Lots of drama.