Finding comfortable ballet flats in nude shades that resemble your own skin tone can often be a struggle. In fact, if you fall anywhere outside of the usual taupe-tastic beiges sported by only a select portion of the population, you will most likely have fallen into the same chasm of despair that I often do while shoe shopping.  
It's a bit like trying to find accurate flesh coloured bandaids - unless you're an alien shade of cadaveric grey or a single shade of tan, the likelihood of finding an accurate match has long been elusive. This however, looks set to change, thanks to Christian Louboutin's more inclusive definition of what a nude shoe is and the addition of the Solasofia to his Nudes Collection!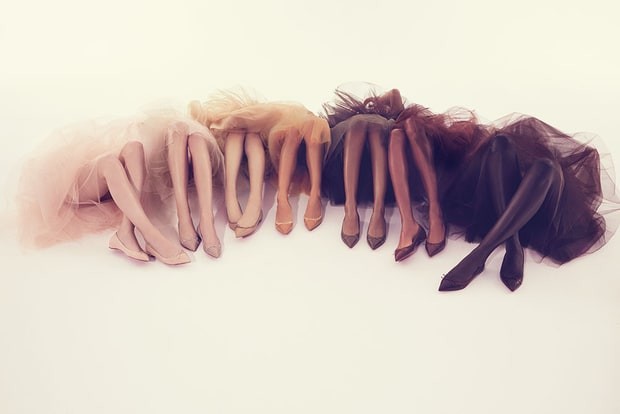 US Weekly
First established in 2013, the Nudes Collection brought us the Pigalle Follies & Iriza pumps alongside the Señora t-bar heels -- three classic styles that embraced the iconic Louboutin shape we've all come to know and love, while combining it with a nude colour palette. Heel-wary fans of the brand can rejoice however, as 2016 has also seen the introduction of the Solasofia, a pointed toe ballet flat. Made from soft leather and accented by a tiny bow, this latest addition also sees an expansion of the shade range, from five nude basics to seven!  So no matter where on the spectrum you fall, from a very pale 'Lea Nue' #1 to a deep 'Toudou' #7, there is finally a shade for everyone!
Like most of his designs however, the iconic red soles do not come cheap and a pair of Solasofia's will set you back an eye-watering, $595/£450! As they say however, you pay for quality and the timeless nature of a nude flat you can literally wear with almost anything does make it a fair investment - or at least, that's what I'll be telling my bank balance until the high-street follows suit and gives us an equally inclusive, but slightly more cost effective alternative!