Anime: Shonen Hollywood (Season 1)
Released By: Funimation
Release Date: June 7, 2016
Retail Price: $44.98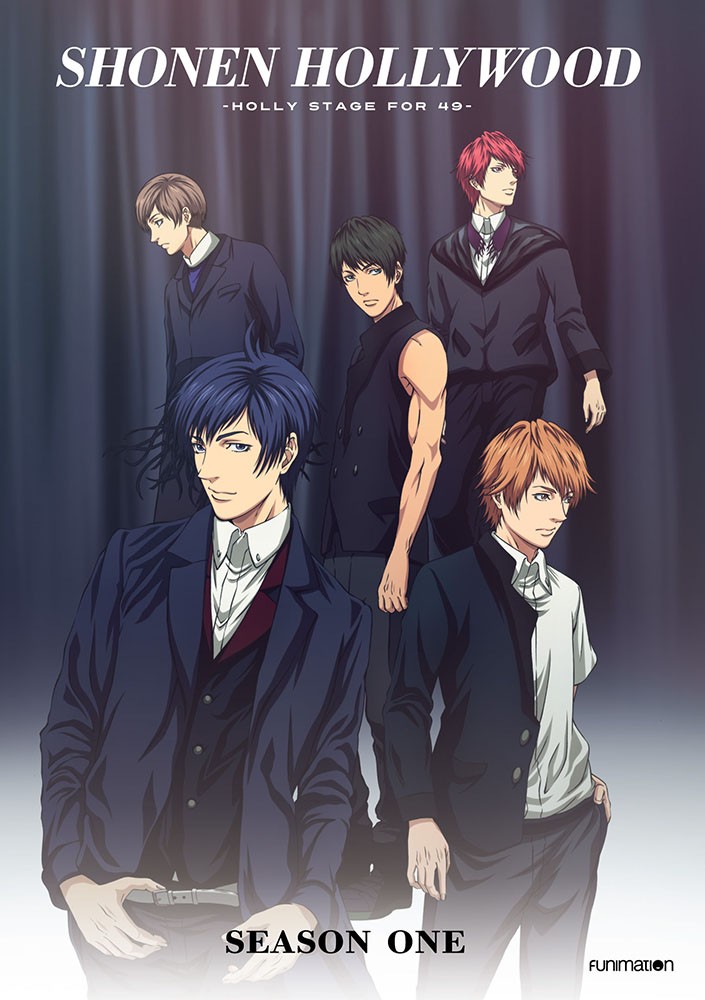 funimation
More than 15 years ago, an uber famous pop music super group known as Shonen Hollywood sparked a craze that had countless fans swooning to attain their attention however possible. Like most in the music industry, they realized they were hitting a point (or peak) of success where it would be difficult to create such a strong sense of interest again, so the group collectively made the decision to retire from the industry while they were on top of their game.
The premise is similar to a Japanese incarnation of a pop boy band from the US in the late 1990's and early 2000's, with a touch of dopey humor and sometimes frivolous episodes that don't carry over to an overarching plot - but still attempting to flesh out the group of young hopeful celebrities.
Now, all these years later, a new group of young men make their way to a prestigious Hollywood Tokyo Theatre with one goal in mind - become the next generation of the super-celebrities labeled Shonen Hollywood. The group of very different boys invokes their own personalities to the new group project  that won't be an easy accomplishment for everyone involved. In order to make their life dreams/goals a true reality, it is established that they may have the general appearance to become idolized like the originals, but much like the music industry - things require more than the physical traits of a "good looking" group to ensure success on a grand scale. Shonen Hollywood 2.0 will need to locate their inner determination and individual abilities to achieve and maintain relevancy.
In this potential superstar group, we meet Kakeru, Makki, Shun, Daiki and Kira as the hopefuls of Shonen Hollywood. They may come off as a goofy crew of unlikely celebrities, but their desire to help gain notoriety in that aspect could be seen to be true by providing hours upon hours of their "best years" to truly prove they have what it takes. Initially, the series focuses on strange storylines that don't necessarily add legitimacy to the struggles, taking a more carefree approach to the quest for stardom. While I enjoy that a series doesn't always take itself serious, it does hinder a chance to add some occasional dramatic weight that could pull viewers in when they need to. I don't want it to seem like I demand that a series uses drama or seriousness to be enjoyed, but sometimes too much of nonsense can make it easier to detach yourself from any ongoing plot. The moments the series attempted those life-like plots, (such as insecurities and self doubt) had much more inclusivity than the general direction of Shonen Hollywood.
For a series that centers on music, the score of Shonen Hollywood leaves a little to be desired from a musically influenced series. It comes off slightly less serious (and more so of comedic) which I think was half intentional and half accidental from a creative perspective. The second season of the anime could see a major improvement if it steps up that approach with that previously mentioned dramatic flair that certainly exists in the industry. The character's backstories are explored episodically through flashbacks, giving better insight on what brought them to this point in their lives or how long they've fantasized about feeling celebrated and adored by the masses. I didn't necessarily have a favorite character by the end of the first season, but there wasn't anyone I strongly disliked either - so you could call it a winning scenario for the anime series.
The animation of Shonen Hollywood is what drew me in initially, providing us with such different characters that from an art perspective bought great contributions to the series. Having each one of the group members distinguishable by appearance and personality makes the group a better depiction of a well rounded group of singers/idols. A random art addition that I really appreciated was the wardrobe of the characters, often giving anime characters a fashionable depiction that someone in their line of work should or would have. The Japanese voice cast is truly great at embodying the comedic personalities of the Shonen Hollywood group, and makes more sense than a dub given the setting of the series. In closing, Shonen Hollywood is a slice-of-life anime that at its best provides some truly entertaining moments, but needs to establish that needed consistency for the second season.
Overall Score: 6.5/10
Aedan's Final Thoughts:
-The first concepts of Shonen Hollywood fill a void in anime that isn't being told, making it a valiant effort.
-If the series had some extra dramatic flair to the slice-of-life approach, the fanbase could widen.
-The artwork for the characters was the most impressive attribute to Shonen Hollywood in my honest opinion.