Summer, we hardly knew ye! School is back in session throughout America, bringing with it precocious young minds ready to be filled with vital information on the quest to adulthood. So imagine the surprise, if, say, you were dropping your daughter off at her dorm at Old Dominion University, when you came across a house with banners draped on it, with some not so encouraging words written on them.
Several members of the Sigma Nu Fraternity did just that on the balcony of their off-campus house, posting three such banners with: "Rowdy and fun, hope your baby girl is ready for a good time," "Freshman Daughter Drop Off" and "Go ahead and Drop Off Mom Too."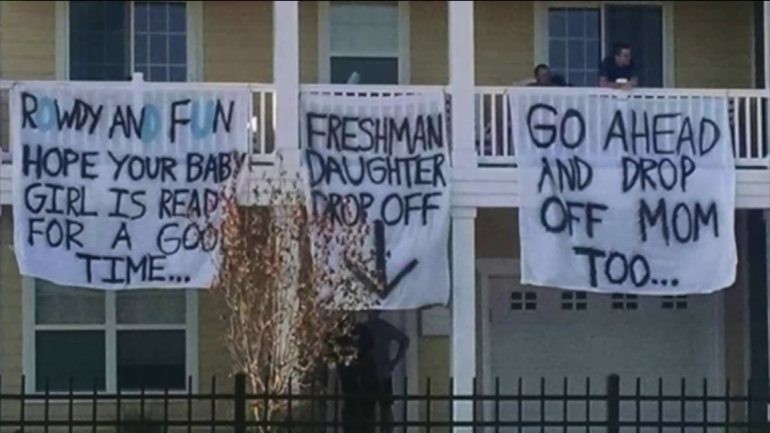 Credit: USA Today
The school is investigating the matter; they've suspended Sigma Nu for the duration of the investigation and released a statement.
ODU's vice president of student engagement and enrollment Ellen Neufeldt said: "Messages like the ones displayed yesterday by a few students on the balcony of their private residence are not and will not be tolerated."
The school's Student Government Association, joined by several students, released a video statement to express their outrage. They also released a written statement that said: "Not only do these actions taken by a few individuals undermine the countless efforts at Old Dominion University to prevent sexual assault, they are also unwelcoming, offensive, and unacceptable."
As the father of a 12-year-old, this type of act disgusts me to no end. To think that my daughter may be subjected to this behavior in just six short years, is appalling. The disdain this writer has for fraternities has only grown more intense. Time and time again, we are pummeled with stories of well-to-do "boys" who hold rallies with lewd messages and prey on young women who imbibe too much alcohol.
Oh, you do not like my broad generalizations of your actions past fraternity member? Well, as a father, man, veteran, and human being, I do not approve of your disfigurement of the status quo on how men should act.
Should we disband the whole Greek society from colleges and universities? Perhaps not, but there needs to be some serious overhauls in who is being recruited. Then again, who pays money just to make friends?
Losers.