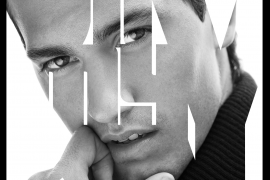 Asher Monroe
 may appear to be a new artist to you, but he is an entertainment industry veteran. Monroe first stepped into the spotlight on Broadway and since then has appeared in the MGM remake of 
Fame
 and the television series, 
Parenthood
. From 2006-2010, Monroe was a member of the Warner Bros.-created boyband, V-Factory. The group hit the Top 40 with their single, "Love Struck." But those days are long gone and now Monroe boasts an impressive solo career. Perhaps you've heard his dance pop hit, "Here With You," or maybe even his most recent single "Memory," which features Chris Brown. "Memory" can be found on his new EP 
On My Way Pt. 1
. The EP features several other pop/R&B driven tracks. If that's your musical vice, you'll definitely want to check 
On My Way Pt. 1
 out. Digital copies are 
available via iTunes
, and it gets a 5/5 rating from us. Check out our exclusive interview with Monroe to learn more about him and his EP. And, stay up-to-date by following him on 
Twitter
, 
Facebook 
and 
Instagram
.
PW:
 What does your EP stylistically sound like? Did other artists influence your sound? Asher Monroe: My EP is very pop and R&B driven. I grew up listening to different types of music and genres. This EP is a combination of the music I grew up listening to and all of the different people I've been co-writing with, mixed with modern "sounds."
PW:
 You worked with Chris Brown on the song, "Memory," and he also directed the song's music video. What was it like working with Chris? Did he give you any advice? AM: Working with Chris was a great experience. We are both around the same age and both from Virginia, so it was cool sharing that bond right off the bat. Creatively, we had fun coming up with ideas and concepts while writing the album together. The one piece of advice he gave me was that when you have a vision on how you want your videos to look, to not be intimidated by the industry and to just do it yourself- whether that's recording, producing, or directing. I'm taking his advice and plan on directing my next video myself!
PW:
 Can you tell us about your next single? AM: My sound is always evolving. So much has changed even since I finished both Part 1 and Part 2 of this EP. I'm excited to start releasing the new wave of music come early next year. 2015 will be a totally new me, so stay tuned!
PW:
 You are no stranger to the entertainment industry. You've performed on Broadway, been in a boyband and starred in the film 
Fame
. How does it feel to now be performing as a solo artist? AM: It's such an amazing feeling to be able to do what I love. I was lucky that I was introduced to the industry at such a young age, and at the same time, I can't see myself doing anything else. I count my blessings everyday and I'm so thankful that God gave me my direction so early on. The experience of being in a boy band and part of many casts laid the foundation of my career and is something I'll never forget, I'm really excited about my solo career and trying new things and challenging myself.
PW:
 What's something "interesting" that people would be surprised to find out about you? AM: The latest hobby I have picked up is cooking. I make a mean pizza! 
PW:
 What is your dream music collaboration? AM: Elton John or Bono .
PW:
 If you could be the opening act for any artist, who would it be? AM: Bruno Mars!
PW:
 Since 2015 is slowly creeping up on us, do you have any New Year resolutions? AM: Work harder, faster, and smarter.
PW:
 What can your fans expect from you in 2015? AM: Hopefully a tour and a full length album.
PW:
 Is there anything else you'd like to add? AM: I love my fans and am so appreciative of their support! Make sure to follow me on Twitter and Instagram! @AsherMonroe. Many thanks to Asher Monroe for taking the time to chat with us! Be sure to follow him on social media and check out his EP, "On My Way Pt. 1″, on iTunes!
Keep Up With PopWrapped On The Web!