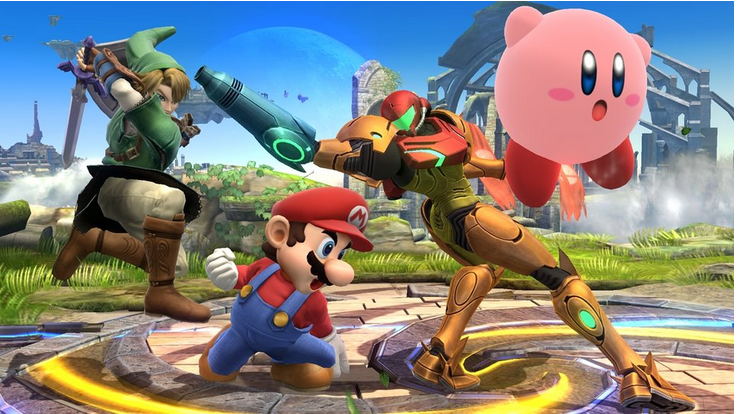 Courtesy of polygon.com
Last week, news spread like wildfire throughout the 
Super Smash Bros.
community of a
high-profile leak
 of information making its way onto the Internet. Originally posted on 4Chan and publicized by SmashBoards' Venus of the Desert Bloom, the purported "leak" contained photos of what looks to be the character select screen for the upcoming 
Super Smash Bros. for 3DS
, complete with some newcomers and returning veterans that have not yet had an official unveiling by director Masahiro Sakurai. Of course, as with any "leak," this was taken with a major grain of salt by those looking forward to the latest installments in the 
Smash 
series, given the appearances of several past leaks that were already proven false throughout the series' history.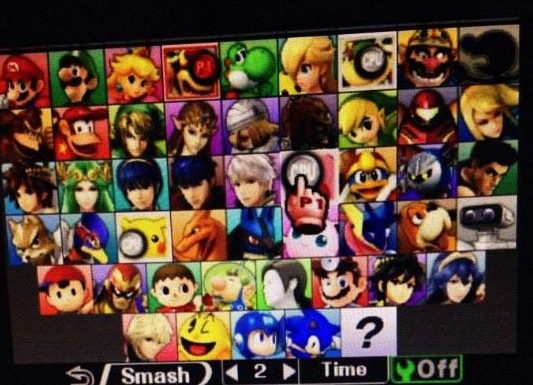 Courtesy of SmashBoards
Still, though, the images of Bowser Jr., 
Xenoblade Chronicle's
Shulk, and the Duck Hunt Dog as newcomers were very well-done if they were fake... and now, as of this Monday (August 25), they have TONS of
supporting evidence
to back them up. In YouTube videos later taken down by Nintendo of America, gameplay footage of the former two newcomers fighting on Battlefield and Yoshi's Island stages against returning veterans such as Ganondorf was released by the leaker. A full run-down of what was leaked in the videos can be found directly below: * Bowser Jr. is playable and fights in the Koopa Clown Car at all times. The Clown Car can unleash various references to the 
Super Mario Bros.
series through its mouth as some of its moves, including a cannonball blaster and allusions to Boo and Broozer in the form of a very large tongue and boxing gloves. * Shulk is playable and fights with his trademark Monado. It seems as though Shulk can switch through Monado alterations at any given point, given the symbols floating behind his body during gameplay, though the specifics of how this is done are up in the air. * Ganondorf returns and is given the "clone" treatment yet again, looking similar to how he did in 
The Legend of Zelda: Twilight Princess
. * Yoshi's Island from 
Super Smash Bros. Brawl
is a returning stage on the 3DS. Furthermore, a "LEAKS" thread opened up on imgur revealing multiple new assets that will be portrayed in the upcoming 3DS title in some way, shape, or form, including: * The Devil Car from the 
Mother 
series as an enemy in Smash Run * Trophies and trophy descriptions for multiple characters, including Tharja (
Fire Emblem: Awakening
), Medusa (
Kid Icarus
), and Demon King Arzodius (
Monster Manor
). * A full trophy of Wario, detailing his reappearance as a playable character. * Multiple new modes, including the return of Spectator Mode and Challenges from 
Brawl
. Some have criticized the leaked images for their obviously lewd contents (such as very revealing photos of areas of Tharja and Medusa's outfits), as well as the legitimacy of the gameplay videos due to the "ESRB0083" name the player character always is toting. The ESRB (Entertainment Software Rating Board) almost never does actual play-tests of games, but instead has the games which they rates' publishers send them gameplay content which may affect their rating. Revealing dresses, allusions to demons and devils, and the like are all reasons a game could go from an "E" rating to an "E10+" or "T" rating, so that much isn't that surprising when you think about it. The "ESRB0083" dilemma is far more pertinent, though even then, those demonstrating the game to ESRB could've chosen that name just for the heck of it. Ridley, Mach Rider, Impa, and Dixie Kong are
highly rumored
to be the final characters yet to be revealed. All the while, longtime fans of the series are questioning the exclusion of the Ice Climbers, who have been a part of the 
Super Smash Bros.
series since 2001's
Melee
. Do you think the leak is real or fake? Sound off in the comments section!
Keep Up With PopWrapped On The Web!
Twitter  SoundCloud Facebook Instagram Tumblr Pinterest YouTube