Tarra Matthews
Senior Manager
@tlcm_16
Sunday's Olympic broadcast brought us more than just the sports themselves, they brought us a preview of Angelina Jolie's newest project 
Unbroken
. The movie is quite timely considering current events. Based on the best-selling book by Laura Hillenbrand,
Unbroken 
recounts the story
of Olympic runner Louis Zamperini and his time spent in a Japanese POW camp during World War II. Besides having Jolie in the director's chair, the film had the Coen Brothers (Joel and Ethan) as script writers along with Richard LaGravenese and William Nicholson.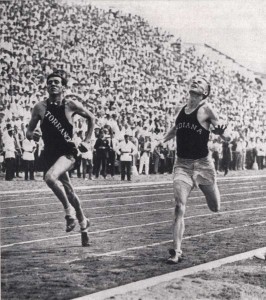 Courtesy of USC Sports Information
After growing up as what you could definitely call the 'bad kid' running around town for years, the police chief finally suggests to Zamperini's mother that she put the boy into running. From there, he bursts on the scene at the 1936 Olympics for Team USA. When World War II hit, Zamperini became a bombardier and unfortunately crashed into the Pacific Ocean. After surviving 47 days adrift, Zamperini is captured by the Japanese and put into a POW camp where he notes perseverance as the key to his survival, just as it had been for the Olympics. One of the most touching lines in the preview is of Zamperini in the camp stating, "If I can take it, I can make it," a mantra from his youth. The star of the movie, Jack O'Connell, is a British actor who is fairly unknown outside his native England (unless you watched 
Skins
) but based on the preview, he does an amazing job portraying Louis Zamperini. Check out the full three minute preview below: [embed]http://www.youtube.com/watch?v=M48tvsfpIew[/embed]
Unbroken 
will be released on Christmas Day 2014.
Keep Up With PopWrapped On The Web!
http://www.PopWrapped.com http://www.Twitter.com/PopWrapped http://www.SoundCloud.com/PopWrapped http://www.Popwrapped.Tumblr.com http://www.Facebook.com/PopWrapped http://www.Instagram.com/PopWrapped http://www.Pinterest.com/PopWrapped http://www.YouTube.com/PopWrapped