If you've stayed up late on Saturday nights, chances are you've heard the canonical voice of Don Pardo. It is with a heavy heart we inform you of Mr. Pardo's
passing this (Monday) evening
. CBS Radio confirmed the news via their Twitter page. Pardo was 96 when he passed, but left the world with decades of SNL seasons under his belt. Save for a couple of episodes over the years, Pardo's is the longest tenure of anyone associated with the show.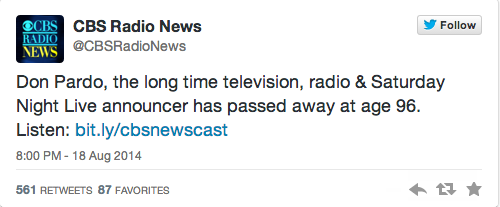 Courtesy of CBS Radio News
Even though Pardo retired from his time on NBC television in 2004, he continued to provide the iconic SNL introductions. He even went so far as to prerecord them at his home in Arizona. Lorne Michaels, the show's creator, had
nothing but kind words
to say about Pardo. "I can't imagine the show without [Don]," Michaels stated, "and as long as he's there, I stay young."
"My lighting director, Phil Hyms is 91, and he's out there every night for the warm-up, and he's not lost a step," he said when asked about Pardo's longevity on SNL. "So, maybe there's something healthy in the studio. I don't think it's Shangri-La, but maybe there's something."
Sixty years is a long time, and we can't imagine anyone taking his place. We will miss you, Don Pardo.
Keep Up With PopWrapped On The Web!
Twitter  SoundCloud Facebook Instagram Tumblr Pinterest YouTube