Because of being a
high-profile target of racist abuse
in the past, you would think that soccer star Mario Balotelli would never be investigated for making offensive remarks, but that's exactly what's happened. Yesterday, the Italian striker posted a photo to his Instagram account that depicted video game character Super Mario, from which Balotelli gets his nickname, with the caption "Don't be racist! Be like Mario. He's an Italian plumber created by Japanese people who speaks English and looks like a Mexican." Which seems innocent enough, but there is also a second caption that looks like it was added to the original image what states "…jumps like a black man and grabs coins like a jew."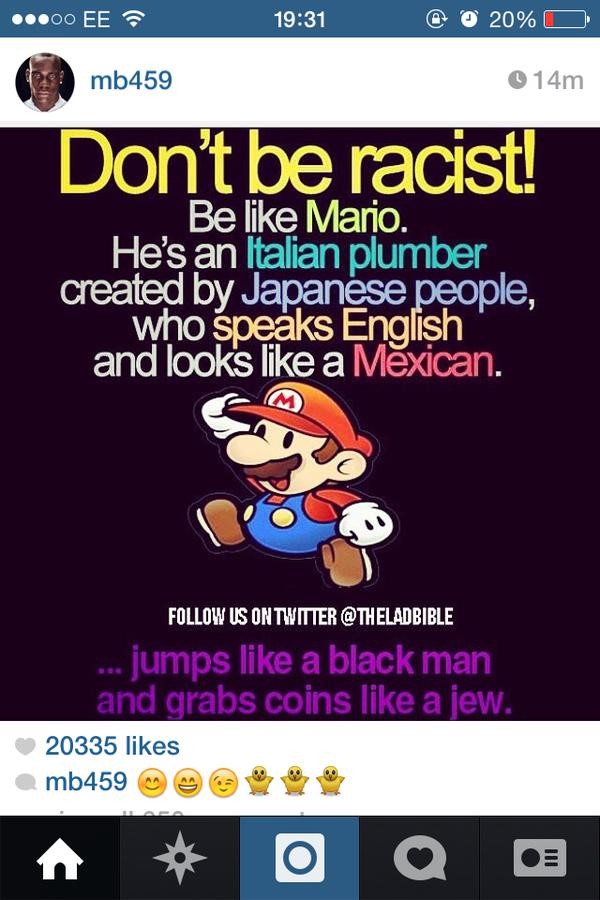 The Football Association, the governing body of professional soccer in England has gone on record as saying that they are "looking into the situation." His team,
Liverpool FC has also weighed in, stating that
"We are aware of the posting which has since been promptly deleted by the player. We will be speaking to the player about the issue." Balotelli himself took to Twitter this morning to
issue an apology for his statements, stating
"I apologise if I've offended anyone. The post was meant to be anti-racist with humour. I now understand that out of context may have the opposite effect. Not all Mexicans have moustaches, not all black people jump high and not all Jewish people love money. I used a cartoon done by someone else because it has Super Mario and I thought it was funny and not offensive. Again, I'm sorry." Balotelli has until Friday to respond to the FA.
Keep Up With PopWrapped On The Web!