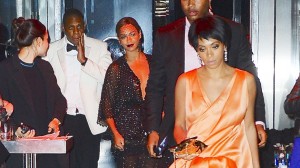 Shane Avery
Senior Staff Writer
Guess I shouldn't be too surprised.
I mean really, what was anyone expecting her to say? It's been over 2 months now since the world got a glimpse of Solange battering her brother in law Jay-Z in an elevator at the Met Gala, and after a joint statement from the family, Solange is finally speaking out solo. In the newest issue of 'Lucky' magazine, Solange said about the incident:
What's important is that my family and I are all good. What we had to say collectively was in the statement that we put out, and we all feel at peace with that.
And there you have it. In the original statement from Solange, Jay and Beyonce, they refuted rumors that Solange was intoxicated during the fight. They chalked up the "problem" to being a private family matter that was unfortunately made public.
Keep Up With PopWrapped On The Web!