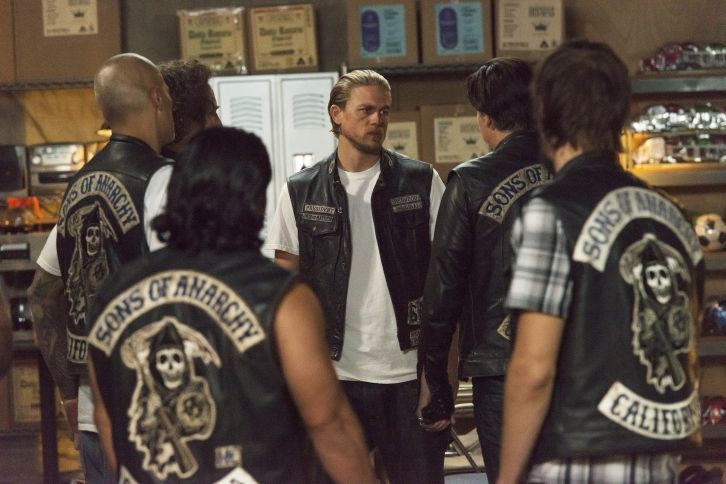 And now everyone, we have to wait TWO DAMN WEEKS!!!!
Sons of Anarchy
is closing in on the end, and with only 2 episodes left, tonight's episode, "Confessions," exploded with one major confession that threw Jax into a personal turmoil. Following Abel's question/confession of his own last week, Jax was armed with some truth he wasn't sure was accurate: That his own mother killed his wife. Jax needed to follw up on Abel's words and, with the episode picking up where we left off, it was time for yet another truth bomb, this time from Wendy. Wendy confessed to Jax that she knew Gemma was hiding Juice from the club, but also said she never knew exactly why. With this knowledge added on top of what he already heard, Jax knew he needed to get even more information and sat down with Wayne. Unser finally confessed to Jax that him and Jarry had discovered that Lin's man Chris Dunn wasn't even in the state during Tara's murder. Jax's reaction was gut-wrenching as we all watched him start to piece everything together. There was only one person that could set the record straight besides his mother: Juice. Mr. Ortiz was busy though, taking down Lin in prison and finally discovering for the club who the rat really was: Charlie Baroski. Lin's confession didn't matter though and Juice ended his life with a couple stabs to the throat. Juice was finally starting to feel like he was back in the club's good graces, so when he was paid a visit by Jax, he was ready to finally be forgiven. Jax was pleased to learn that Juice had outed Baroski and killed Lin, but not if it meant what he thought it meant. Jax then floored Juice by telling him he knew Gemma was hiding him and then prodded Juice into telling him exactly what happened the night of Tara's murder. And the scene that followed will be (I'm assuming without seeing the final 2 episodes), what Charlie Hunnam submits for the 2015 Emmy awards. Jax' eyes filled with tears as Juice confessed the entire night of Tara's murder and his role in covering it up. Charlie has given some stellar work over the course of the series' run, but nothing like this scene. It was emotional, tense, and award worthy. Absolutely brilliant on his part and Theo Rossi's. Hopefully Emmy voters take notice for once. Jax informed Juice he would make sure his death was quick, and Juice seemed to accept his fate. Everything began pouring over Jax, as he realized that EVERYTHING that had happened since Tara's murder happened under false pretenses. Meanwhile, Gemma managed to get word about Jax visiting Juice from a confessing Wendy (and later a phone call from Juice himself) and decided she needed to get the HELL out of Charming and away from her menacing son. There was one person though that she needed to see, and that was Nero. When they met, Gemma was vague about why she was leaving, but Nero pressed her about why Jax was looking for her. It took a phone call from Jax for Nero to realize the truth about his girlfriend and told Jax he hadn't seen her. Nero told Gemma to go, and she left without a goodbye which left Nero in a fit of tears. Upon meeting with the club later, Jax finally came clean about everything and they were left reeling about the news they were being fed. Jax met with Nero one last time to confess that, after learning everything about what Gemma had done, she's still his mother and he loved her. He didn't know what he was supposed to do, and he collapsed in tears into Nero's arms. It appeared that Juice's time had run out as well (which he had resigned himself to) when Tulley's paid guards came in and beat him to a pulp before taking him to the infirmary. His fate was left unknown. Gemma meanwhile, was on her way out of Charming and heading to the destination that Nero had set his sights on for the two of them. This episode was absolutely brilliant, and I can't believe there are only 2 episodes left. The acting from all involved was phenomenal with of course special mention to Charlie Hunnam, Katey Sagal and Jimmy Smitts. What did you guys think?? Shane's notes:
1. Who else wanted to smack the HELL out of Jax when he punched Unser? I mean, yea maybe Wayne was out of line, but he doesn't know the truth, so maybe Jax should have considered that?
2. MENTIONING AGAIN: Charlie Hunnam broke my heart in that jail house scene with Theo Rossi. Absolute brilliant acting.
3. Gemma punching Chuckie and him not turning her in showed their friendship will be intact once the season ends. He never prodded her about what she did, just that he needed to protect her.
4. Will the club be able to get everything back in order now that it's been blown apart? Or will Indian Hills and the rest of the Sons of Anarchy try and take down the Charming  SAMCRO?
Keep Up With PopWrapped On The Web!