So that happened.
Sons of Anarchy
has barreled towards its series finale for seven years now, and it won't mark the end of its final ride until next week. However, last night delivered some of the series' finest moments to date. This isn't going to be the most detailed recap that I've ever written, because for all of you who have watched the show with me, you all know there is only one way to start this: Kurt Sutter followed through on his promise to end the series in a bloody mess, finishing off the penultimate episode with the deaths of THREE MAJOR CHARACTERS. Juice is DEAD. Unser is DEAD. And finally, GEMMA IS DEAD. The final confrontation between Jax and Gemma was an acting masterpiece between Charlie Hunnam and Katey Sagal. Gemma had resigned herself to her fate, and the way she spoke to Jax before he shot her brought the show full circle. In the end, she still had over him what she had from the start: Control. She told him she was ready to die, and that she knew what he had to do. Through gritted teeth and tears, Jax put a bullet into the back of his mother's head. It's fitting that Gemma gave Clay her blessing to kill JT, and then went on to give Jax her blessing for him to shoot her. It was absolutely beautifully done, and up until the moment he shot her, I never for a second thought he was going to. Prior to Gemma meeting the flowers, Jax was involved in a stand-off with Unser, who begged Gemma to leave with him. When she refused, he informed Jax he had nothing left. They were all he had, and with that, Jax put a bullet into the former police chief's chest, taking his life. Now this bothered me! Was Jax ALWAYS going to kill Gemma and had to eliminate Wayne because he was a witness? Or was he simply putting Wayne out of his "miserable" life?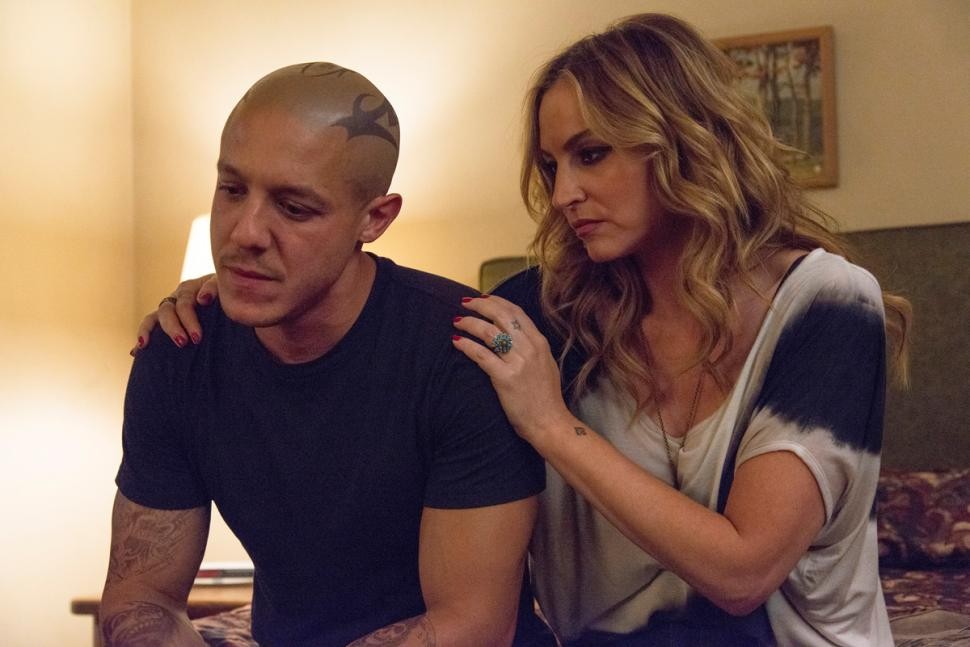 Courtesy of NY Daily News
And thirdly, which may bother many of you... Juice. Time had finally run out for the former SAMCRO member, and he was met with the bloodiest end of all when Tully opened him up with a scalpel from the infirmary. Juice's ride has been the roughest since he was jailed by the club, but his death needed to happen - and once again, Sutter didn't disappoint. The ghost of Tara was felt very strongly in this episode, from Gemma proclaiming that she truly did love her to Wayne stating that he always wanted to do what was right by her. Next week, everyone, we say goodbye to our beloved
Sons of Anarchy
... What will happen?
SOME NOTES: 
1. I kept this relatively short, because I'm still taking in everything that happened. I truly felt the episode was extremely well done, with masterful directing from Paris Barclay.
2. Jax's meeting with the Indian Hills charter is a bad omen: will they truly vote to make him meet Mayhem? 
3. What will Nero do once he discovers he pretty much sent Wayne to his death?
4. GREAT to see Hal Holbrook back in the role of Nate. His scenes with Katey Sagal broke my heart, and reminded us all how great he was back in season 3.
5. I cannot forget to mention the incredible cameo by Michael Chiklis. 
Perfection!
6. Really let this sink in, everyone:
THREE PEOPLE ARE DEAD. 
One episode left.
Keep Up With PopWrapped On The Web!