Now is certainly the time to be a Studio Ghibli fan! Studio Ghibli's The Red Turtle, a co-production with Wild Bunch, is set to debut in U.S. theaters on January 20th. Additionally, Studio Ghibli director Hayao Miyazaki is likely to come out of retirement to transform his short film, Boro The Caterpillar, into a full-length feature. To top it all off, Miyazaki's Spirited Away will return to cinemas for the film's 15th anniversary!
Spirited Away begins with a young girl named Chihiro moving from one home to another. She and her parents stumble upon a portal to another world. There, the girl must learn how to move from one stage of life to the next. Failure to mature will have dire consequences for her developing identity.
Regardless of whether you would prefer to view the film in English or in Japanese with English subtitles, both options have been accommodated. Fathom Events lists the English Dubbed version for Sunday, December 4th at 12pm local time, while the English Subbed version is set for Monday, December 5th at 7pm. Overall, 400 theaters across America plan to host the film. To purchase tickets, visit the Fathom Events webpage.
As a bonus, the short film"Ghiblies: Episode 2 will be included with both screenings. At 25 minutes in length, the short follows caricatured versions of the employees at Studio Ghibli while they attend to their duties.
Given the high-quality of Spirited Away and Miyazaki's other past work, the idea of him creating another animated film is welcomed. Once Miyazaki finished his last film, 2013's The Wind Rises, he officially announced his plans to retire.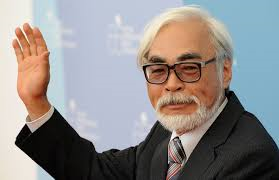 goboiano.com
In a video of the announcement, Miyazaki speaks to his motives behind retirement: "I thought it was written well in the public statement. It says I'm free." He went on to elaborate about his plans for post-retirement, "I'll probably figure out a bunch of things while I'm resting." Overall, he was reluctant to make any firm promises lest he break them. Amusingly, his only promise was to retire, which he has now broken. Perhaps freedom isn't as appealing in practice, and all he needed was a break to rest.
Amid Amidi's article on Miyazaki states, "The news of Miyazaki's pending return to feature film was the subject of an entire NHK TV special that aired in Japan," aptly entitled The Man Who Is Not Done: Hayao Miyazaki. Amidi also makes mention of the fact that Miyazaki "is already preparing storyboards for the film." However, Variety cautions that "no formal announcement about production or release date has been made."
Despite the cautious tone of Variety's article, they also quoted Studio Ghibli Producer Toshio Suzuki's promising statement: "Ghibli will continue as long as Miyazaki continues to make films."
Let's hope Suzuki is correct.
Long live Studio Ghibli.