Written by Shannon and Dean Hale, The Unbeatable Squirrel Girl: Squirrel Meets World will be released in stores on February 7, 2017. This week with PopWrapped, you can join the Unbeatable Squirrel Girl by winning a prize pack from Disney, including:
-Copy of The Unbeatable Squirrel Girl: Squirrel Meets World
-Branded Squirrel Girl "squirrel ears"
-Branded Squirrel Girl coffee mug
ABOUT THE BOOK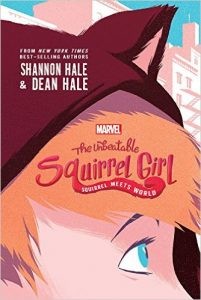 Marvel
Fourteen-year-old Doreen Green moved from sunny California to the suburbs of New Jersey. She must start at a new school, make new friends, and continue to hide her fluffy tail. Yep, Doreen has the powers of . . . a squirrel!
After failing at several attempts to find her new BFF, Doreen feels lonely and trapped, like a caged animal. Then one day Doreen uses her extraordinary powers to stop a group of troublemakers from causing mischief in the neighborhood, and her whole life changes. Everyone at school is talking about it! Doreen contemplates becoming a full-fledged Super Hero. And thus, Squirrel Girl is born!
She saves cats from trees, keeps the sidewalks clean, and prevents vandalism. All is well until a real-life Super Villain steps out of the shadows and declares Squirrel Girl is archenemy. Can Doreen balance being a teenager and a Super Hero? Or will she go… NUTS?
The book is recommended for ages 9 and up!
ABOUT THE AUTHORS
Shannon Hale and Dean Hale are the award-winning husband-and-wife team behind the Princess in Black series, illustrated by LeUyen Pham. Shannon Hale is also the author of the Newbery Honor novel Princess Academy as well as the New York Times best-selling series Ever After High. Shannon Hale and Dean Hale live in Salt Lake City, Utah.
To learn more, visit Disney Books, and be sure to follow Disney on Twitter, Instagram, and Snapchat: @disneybooks. Join in the conversation online by using the tag: #SquirrelGirl!
To enter the contest, retweet PopWrapped's tweet about the prize pack! The winner will be announced on February 6th!