British stage actor Brian Bedford passed away on Wednesday (January 13), after battling cancer for two and a half years. A statement released to The Canadian Press said that despite Bedford's declining heath "the doctors were just astounded by his will to live". 
Bedford was a revered theatre actor, who acted and directed at the famous Stratford Festival for nearly three decades. Among other works, he starred in King Lear, Tartuffe, and Measure for Measure. In 2011, he spoke with CBC News about his career as a classical actor, and told them "it's made my life, actually".
I wanted to have a typical, classical English actor's career doing Shakespeare and the classics. That's what Stratford has provided for me, so that's why I say it's made my life. 
During those 30 years at Stratford, Bedford starred in many of Shakespeare's great tragedies, including Macbeth and King Lear. Despite being known for his "uncommon emotional transparency", he also drew praise for being "the finest English-language interpreter of classical comedy" who had "hair-trigger timing". 
Bedford was also a prolific Broadway actor, starring in 18 plays, winning one Tony Award, and earning six additional nominations. 
One of his most infamous roles was that of Lady Bracknell in Stratford's 2009 production of The Importance of Being Earnest. The play, and his starring role, moved to Broadway in 2011. This role helped Bedford snag yet another Tony nomination. The play itself won the Tony for Best Costume Design, and was nominated for Best Revival of a Play. 
In addition to being a prolific theatre actor, Bedford also had a career in film and television. He guest starred in episodes of Cheers, Alfred Hitchcock Presents, and Fraser, among others. Voicing the lead in Disney's 1973 animated adventure Robin Hood was his most notable "on screen" role, and was one that inspired children for generations. Bedford said that he gained a lot of notoriety for this role, with children recognizing the voice of their beloved cartoon hero. 
Oh, that's what I"m most famous for! Little mites in supermarkets come up to me and ask me to do 'oo-da-lay-lee'.
Bedford is survived by his longtime partner, Tim MacDonald. The two were married in 2013, and shared their time between Santa Barbara, California and Stratford, Ontario. Our thoughts and hearts go out to his husband, his friends and family and to those were touched by him.  Whether it was his celebrated role as Ariel in The Tempest or the way he voiced everyone's favourite clever fox in Robin Hood, he has left a legacy sure to inspire actors, archers, and dreamers for generations to come.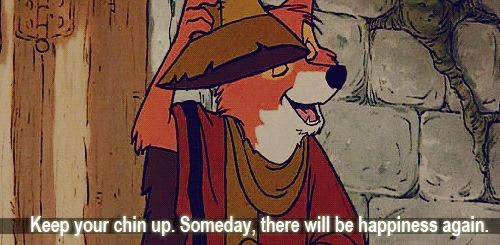 BuzzFeed