The force is strong... with Build-A-Bear!  The company announced this past Thursday that customers can now build their very own customizable Ewok Build-A-Bear stuffed animal based on the iconic Ewok, Wicket, played by Warwick Davis in Star Wars: Episode VI - Return of the Jedi.
Ever since they first showed up in Return of the Jedi, the Ewoks have always been compared to teddy bears, so it's not surprising that Build-A-Bear would release a customizable Ewok plush, and this one is perfect.  The 16" plush Wicket (with authentic Ewok sound chip) is available right now on their website and will hit stores in the US and UK this week.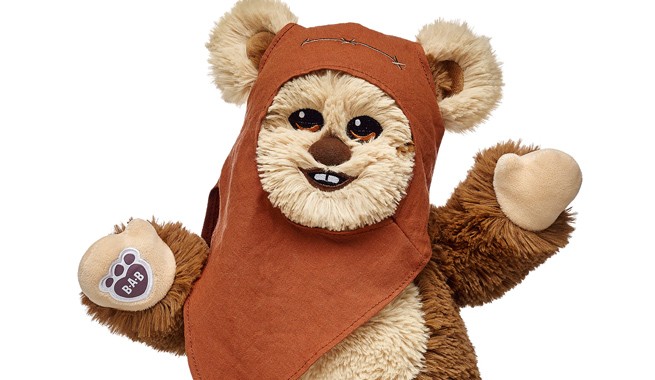 comicbook.com
The base model of Wicket will run you $28, with the exclusive sound chip (with 6 official sounds from the film to choose from) costing an extra $7.  To coincide with the home video release of the record-breaking seventh installment of the franchise, Star Wars: The Force Awakens, Build-A-Bear is also running a limited-time two-for-$45 Star Wars plush program on the site right now. Their Star Wars collection includes Wicket, Chewbacca, Darth Vader, a Stormtrooper, and a Star Wars logo bear.
The site also has a plethora of Star Wars outfits and accessories available for Star Wars and non-Star Wars bears alike, such as Rey, R2-D2, Han Solo with blaster, Darth Vader with lightsaber, Kylo Ren with lightsaber, Poe Dameron, Captain Phasma, Boba Fett, Princess Leia, and more.  All of these great products and more are available right HERE on their website.
Build-A-Bear has been around since 1997, and currently operates more than 400 stores worldwide, including about 300 company-owned stores in the United States, Puerto Rico, Canada, the United Kingdom and Ireland and international franchisees in Europe, Asia, Australia, Africa, Mexico, Brazil and the Middle East.
Be sure to check back right here at PopWrapped for all of your up-to-date Star Wars news!