Amy Winehouse was one of the most talented singers of the modern era and has probably been singing along with angels since her passing in 2011. The songstress died at the age of 27 and to this day, it seems hard to believe we won't be hearing her sweet voice singing for us ever again. Three years later, a statue of hers was put up in London, to honor and remember her talent and music.
On this Sunday afternoon, the singer's fans from all around the world attended the statue's unveiling, at Stables Market in Camden, North London. The date was not random at all, as September 14 would have been her 31st birthday. Winehouse's figure is real-life sized and bronze-colored, while it stands tall in the center of the market. The designer, Scott Eaton, stated:
The pose had to capture Amy's attitude and strength, but also give subtle hints of insecurity. The hand on the hip, the turn of the head, the grabbing of the skirt, the turned in foot – these are all small elements that contribute to the personality of the piece.The design is not based on any single snapshot, photo or moment in time, but an amalgamation of influences. Hopefully by taking many important moments in her history and drawing on those, the piece comes close to capturing the essence of Amy.
Amy's parents, Mitch and Janis Winehouse, could not be missing from the event, while actress and friend, Barbara Windsor was also there. All of them had a kind word to say for the sculpture, while also remembering the late songstress. From now on, the memorial statue will be standing in the middle of the market permanently.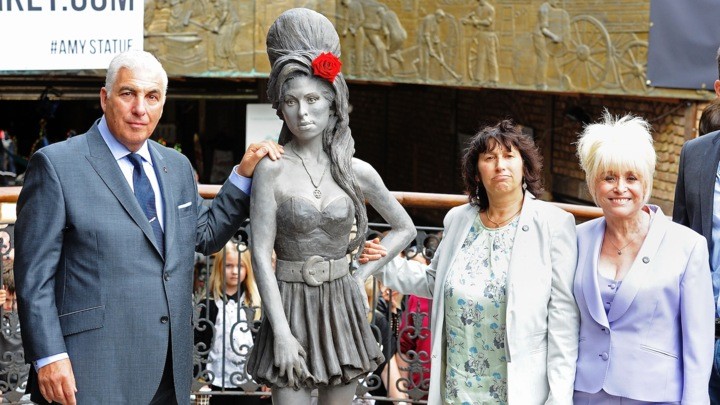 Courtesy Of Rolling Stone
Keep up with PopWrapped on the web!
Twitter SoundCloud Facebook Instagram Tumblr Pinterest YouTube