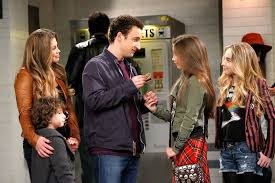 Courtesy of forbes.com
Stephanie Walsh
Staff Writer
Dedicated to Melissa Wash, the greatest Boy Meets World fan I know.
When I first heard that
Girl Meets World
was going to be a thing, I was excited to catch up with Corey and Topanga Matthews. I, like many people my age, grew up with TGIF on ABC and am an avid
Boy Meets World
fan. I have many fond memories bonding with my sister over certain episodes of that show and she and I shared many inside jokes based on things from the show. The pilot of
Girl Meets World
leaked the week before it aired, and my sister demanded that I watch it immediately, so that we could bond over it. She was very distraught because it left her with the impression that Mr. Feeny, Corey's beloved mentor, was dead, and that his "ghost" was featured in the episode. The people behind
Girl Meets World
have since confirmed that was an incorrect theory, but she told me, in tears, how upset she would be to know that Feeny isn't going to be around in this series. I watched the pilot and we did discuss it at length. However, that discussion sparked in me the need to address my issues with this show, and why I feel that in some ways,
Girl Meets World
pales in comparison to its predecessor. It also made me further delve into a big underlying issue with most family friendly or children's programming. One of the best things about
Boy Meets World
, and many family programs from 'back in the day,' was that Corey and Shawn had wonderful adult role models to guide them. Amy and Alan were not only loving, intelligent parents to Corey and Eric, but also cared for and taught Shawn and Topanga. The show evolved into being about the Boy and ultimately focused on how Mr. Feeny taught them. In the final episode, Feeny ended the show on "Class dismissed."
Based on the pilot of
Girl Meets World
alone, I was very disappointed in the shell of his former self that Corey had become, he's comic relief. He's a joke. The stars of the show are his daughter, Riley and her best friend Maya (female versions of young Corey and Shawn). It seemed very reminiscent of early episodes of
BMW
. They even have a Minkus-esque character who openly crushes on the girls named Farkle (SPOILER ALERT, he's Stuart Minkus' son!). But Corey is an overgrown child, he's their seventh grade History teacher but the girls incite a protest in his classroom and he does nothing. He exercises no authority and just sort of stands there and lets it happen. All I thought was "Did Mr. Feeny teach you nothing?" How disappointed he would have been to witness that scene. I have explored
Girl Meets World
as more episodes have come out- I wasn't ready to give up on it just yet, and it does seem that Topanga is more of a voice of reason, and Corey seems to be trying. I still get this overall vibe that the kids are the brains and the adults are there for comedic value. I hope the show proves me wrong and that the Michael Jacobs brings back the formula that made
Boy Meets World
such a success.
Keep Up With PopWrapped On The Web!
Twitter  SoundCloud Facebook Instagram Tumblr Pinterest YouTube