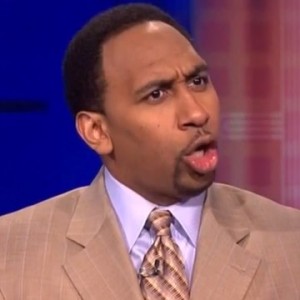 Courtesy of Baltimore Sports Report
Can we please just go one day without some irrational and infuriating story about women's rights that basically says we should keep our mouths shut and just stay in the kitchen? All I'm asking for here is an early Christmas, that's all. Stephen A. Smith is a man who works for
ESPN
. If you've made it through that sentence and have no clue who he is, honestly I think it's for the best. And even more so if you have a vagina. Anyway, Mr. Smith decided a long, long time ago that he wanted to be a jerk and now that attitude he holds so dear is catching up with him. Let's put aside the snide remarks he makes on his Twitter account and focus solely on his
domestic abuse comments he aired on First Take
.
We keep talking about the guys. We know you have no business putting your hands on a woman. I don't know how many times I got to reiterate that.

But as a man who was raised by women, see I know what I'm going to do if somebody touches a female member of my family. I know what I'm going to do, I know what my boys are going to do. I know what, I'm going to have to remind myself that I work for the Worldwide Leader, I'm going to have to get law enforcement officials involved because of what I'm going to be tempted to do.

But what I've tried to employ the female members of my family, some of who you all met and talked to and what have you, is that again, and this what, I've done this all my life, let's make sure we don't do anything to provoke wrong actions, because if I come, or somebody else come, whether it's law enforcement officials, your brother or the fellas that you know, if we come after somebody has put their hands on you, it doesn't negate the fact that they already put their hands on you.
And if you're not boiling over with anger by that, you can watch those words fall out of his mouth so effortlessly here:
But don't worry guys, he's sorry. Like, really, really sorry. So sorry that he went on air and apologized with all of his heart for his completely okay-to-whoop-on-women-who-are-mouthy viewpoint. It wasn't his intent! To say what he said 'was foolish is an understatement', but it's alright because an on-air apology for one tirade makes up for all the other sexist tirades that have already come to pass.
I don't know how much more sarcasm I can layer on than that.
His apology is posted below. And my apology is posted right here for whatever damage you may do to your computer while absorbing this absurdity.
My apology on @ESPN_FirstTake Monday morning speaks for itself. I accept ESPN's Decision. See you all next Wednesday. God Bless! — Stephen A Smith (@stephenasmith) July 30, 2014
Keep Up With PopWrapped On The Web!