This summer, Stephen Amell took to the wrestling ring in WWE's SummerSlam 2015. And it was pretty epic. The show was hosted by Jon Stewart and featured many of WWE's best in some incredible showdowns.
Amell more than held his own alongside Neville when they took on Stardust and King Barrett in a match filled with surprises. 
The bout was scheduled after a heated confrontation August 10 at RAW when Stardust punched Amell in the face. Amell countered when he launched himself into the ring Arrow-style and kicked the crap out of Stardust.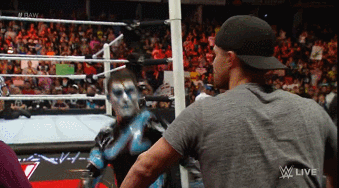 Giphy
It seems all of Amell's training and passion for wrestling has paid off because he has been nominated for WWE's Slammy Award in the Best Celebrity Moment category! His nomination comes from a moment during his match when he scaled the ropes and then dove onto his opponents below in a move reserved for only the most seasoned of wrestlers.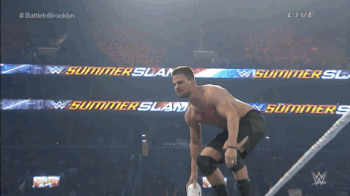 Giphy
Our favorite Green Arrow is facing off in his category against the cast of Entourage, Jon Stewart, Kevin Owens and Wayne Rooney. 
Amell took to social media last week to make a plea to his fans to vote using the hashtags #Celebrity, #Slammy and #StephenAmell. Fans can vote for Amell using the hashtags via Twitter, Instagram and Facebook. WWE's Slammy Awards will be held live during Monday Night Raw on December 21st at 8PM EST/PST. Time is running short, so make sure you get those votes in! 
https://www.facebook.com/stephenamell/videos/965862550165679/?permPage=1