We all know that Stephen Colbert is a man of satire and undeniable wit so
his excitement
for the Apple 
iWatch
announcement earlier this week was the perfect mix of, "That's so me!" and "I totally know that guy." After airing the announcement video from Apple CEO Tim Cook, Colbert got up and did one of his signature 'Happy Dances' while simultaneously making fun of all the consumers out there who want the 
iWatch
now before even really knowing much about it or its features. Colbert also pokes fun at the upcoming ways to 'connect and communicate in new intimate ways from your wrist'. Stephen even has some insider information for us, introducing the 'Wristpad' to the world.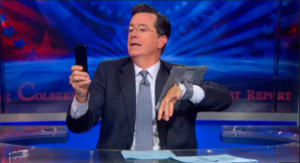 Courtesy of Comedy Central
Are you as excited for the 
iWatch
 (being released in 2015) as Stephen? Catch the full video from Tuesday's
Colbert Report 
below!
Keep up with PopWrapped on the web!
Twitter SoundCloud Facebook Instagram Tumblr Pinterest YouTube