It's no secret that President-elect Donald Trump's rhetoric is questionable at times (to say the least), and his rhetoric regarding women has been in the spotlight since his campaign started. Who can forget the time he called Hillary Clinton a "nasty woman" or the now-infamous "grab her by the pussy" tape recording? His hateful speech was even used in a campaign ad showing young girls looking at themselves in mirrors.
Aria Watson, a student at Clatsop Community College in Oregon, was just two weeks shy of being able to vote in the election, but she was old enough to see and understand what was happening and what Donald Trump's victory would mean. "When Trump beat Clinton, my heart shattered. I knew I had to create something different," she told Buzzfeed.
Aria Watson/Tumblr
Watson, now 18, created the photo series entitled #SignedByTrump, which features quotations from President-elect Donald Trump about women written on the bodies of real women, for her final project for her Intro to Photography class. The photos were originally posted on Facebook and Instagram but were removed. On December 8th she posted them on Tumblr and has since received more 100,000 notes.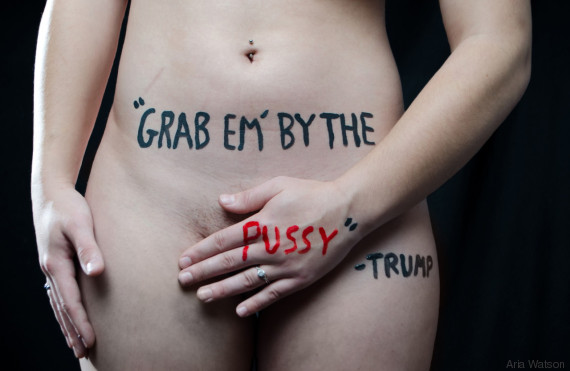 Aria Watson/Tumblr
The haunting pictures, which are also very empowering, are Watson's attempt at showing people who Donald Trump really is and to encourage people not to be silenced by his rhetoric. "Don't be afraid to speak up about what you are passionate about ... I don't know why Donald Trump is in office -- or how this even happened -- but he is. What we need more than ever is to come together. We are stronger together."
You can view the #SignedByTrump series on her Tumblr page and in the gallery below.
#SignedByTrump
[gallery type="slideshow" size="full" ids="150107,150108,150109,150111,150112,150105,150103"]