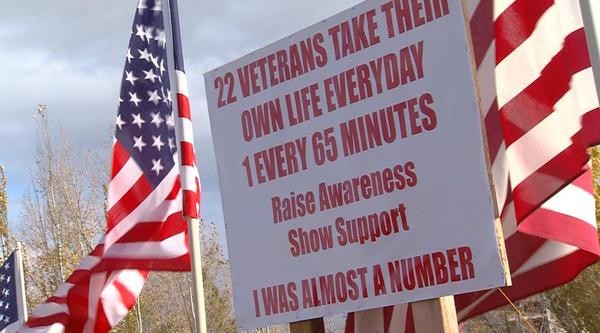 The number 22 has different meanings to everyone. Perhaps it is their lucky number, the number to their favorite athlete's jersey, or the number of ounces in a tall can of beer. For those who have served the United States through military service it is a somber reminder of a fallen friend. It represents how many veterans take their own life each day, 22 people who survived their time in service only to lose their life by their own hands back home in America.  
Perhaps you were unaware of this crisis that has befallen the modern day soldier, but the sad fact is, that number is real and not going anywhere soon. Those in uniform can tell you that it has been become ingrained in their minds through countless power point presentations in an effort to combat this disturbing trend; however, the majority of America is unaware.
Speaking from my time in ACU's (army combat uniform), the unit I was with had a soldier become one of those statistics. A young 19-year-old woman, who had not seen any combat, decided that military service was too difficult and will no longer experience this crazy journey called life. I have battled those demons, coming back from overseas attempting to fit back in to society.
This is such a difficult transition, one that a lot of veterans struggle with. In a military environment, especially in a war-zone, there is an eerie acceptance. The world around you is under attack, your guard is up but you make jokes. It is so hard to describe. You know that you may die or have to help another soldier by risking your own life, but a switch flicks and you become accustomed to this chaos. It becomes part of you for a year: this is your life. The problem when you get back to the safety of your own house is that you struggle with flipping the switch back.
Initially it is a party, celebration of the freedom that comes with not having to wake up and be somewhere. The freedoms that you did not have, you indulge in them. Perhaps it is party mode, going out to see family and friends that you only got to talk to once or twice. It could be any vice or bad idea, you don't care because you don't have to face repercussions from some person ranked higher than you.
After the honeymoon is over, the struggle manifests itself. A struggle to find a job, adjusting to how a spouse has managed the house in your absence, terrible nightmares or vivid flashbacks to traumatic events; all of these things with no one to talk to about them.
Those people that saw you experience every emotion are no longer there to confide in. The sheer magnitude of your experience is something you do not want to burden your loved ones with, stories they will not understand; "you had to be there" becomes your auto response and then you store it back in your overwhelmed mind.
This is why 22 veterans succumb to suicide every day. They try to stave off these difficult emotions with drugs, with anything that will numb their mind to suppress the pain and anguish that silently plays out every time they close their eyes. In a country of millions, you become isolated from everyone and feign a smile to put those who care most at ease.
Movements have begun to combat this, led by other veterans who have managed to fight back against those demons. Facebook groups have formed, councilling measures have been increased to counteract the zombie inducing medications that VA hospital doctors have prescribed. Crisis prevention call centers have been set-up as well, but still throughout all the measures taken 22 veterans each day still slip through the cracks.
I reached out to a Facebook group I recently joined to see if anyone would share their struggle or resources they wanted to get out there in an effort to raise awareness. One member provided this link.
Another e-mailed me their personal struggle, which is what I will end this with. Before I do, I just want to thank those of you who will read this. My hope is that if even one person reads it and realizes they are not alone, that suicide is a permanent fix to a temporary problem, we just may be able to reach someone and prevent them from becoming one of the 22. On this anniversary of the terrible tradgedy that befell our nation 14 years ago, I believe in you. I believe we can overcome, we will fight back, we will perservere.
This is not my story, but just one example of countless others (this quote has not been altered or edited in any way):
I was in the Army from 91-94, stationed at Schofield Barracks Hawaii, I am a Gulf War Vet. I got married when I was 29, I am now since divorced and have 3 kids.

When I came home from active duty, I didn't seem to have the problems I am having now, it's like the older I get the worse my daily fight gets.  When I was told by my wife that she wanted a divorce in 2012, I fell back onto my military training on how to survive. I went back to the training I know and became very distant.  

So now here it is 2015 and I am dealing with ptsd, anxiety, and depression. I miss alot of things that get invited to due to not wanting to be out and about. I feel safe inside the 4 walls of my house. I have been so depressed that I have had to turn to alcohol to help me take away the pain so it feels like i can  take a break from fighting. I have drank so much that I will end up not remembering what I was thinking about but wake up with my firearm siting on my lap, loaded to full capicity and also pictures of my 3 kids also in my lap.  I have had alot of feelings about my wondering how people would react with me being dead, or who would show up to my funeral. 

Life has happened and has also made me feel so depressed that it has also struck a nerve with my military career where I also start to feel bad about the missions and jobs that I had to do in the service. I think about the faces and things I have seen in other countries. I still see the faces of my enemy up close and far away. I still smell the smells or have flash backs when i have something that feels like deja vu.

With being close to being a number of the 22 soldiers that have killed themselves every day, I feel that there is more that needs to be done to help all of us. I feel my kids deserve to have a father who is not so depressed and tired of fighting his demons in his life that I can go and do some fun things with them. My kids deserve to be able to have a father that will feel safe outside of the house, a father that don't have a short temper, or have high anxiety.