Renad Farid
Staff Writer
@OhMyRino
Brace yourselves, Avengers! The news surrounding 
The Avengers: Age of Ultron
keeps on coming! Yesterday, Entertainment Weekly released 8 new photos that gave us a hint of what we're going to see in 
Age of Ultron
, including Ultron himself! Everyone -and by everyone I mean everyone that didn't read the comic books- has been wondering, "who's Ultron?" According to
EW's plot release
, Ultron is an artificial intelligence robot created by Tony Stark...more likely his new weapon to help him save the world. But every fairy tale needs a good old fashioned villain, right?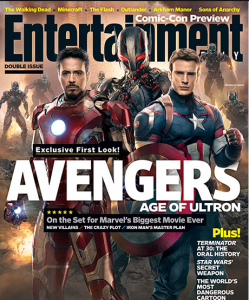 Courtesy of Entertainment Weekly
Well, he might not be old fashioned, but he's definitely the villain! Ultron was designed to feel emotions, so he can also evolve into more powerful forms--basically becoming invincible. That's why we have so many Ultrons in the background of the cover. We couldn't help but spot major changes in The Avengers wardrobe. Captain America got the best of both suits from
The Winter Soldier
and from his WWII suit, with the red outlining. Thor got more metal coverage over his torso, cause even gods have to keep safety in mind!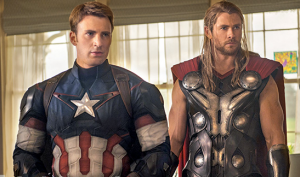 Courtesy of Entertainment Weekly
Black Widow decided to lose the straight hair and go for curls, with a more detailed suit that looks even more badass! Hawkeye couldn't be left out of the makeover: this time, we see him in a 2-piece suit, with more protection and color, as he adds a little bit of maroon to it. Now, the big boss, Mr. Tony Stark! His Iron Man suit is quite similar to the one we saw in
Iron Man 3.
It has a more Hulk-y look as he's set to have an "incredible" fight with Hulk. There will be more suits shown in the movie, but no information was released about them yet. Check out the full set of photos below! [gallery ids="52821,52822,52823,52824,52825,52826,52827,52828,52829" orderby="rand"] We still don't know if we will get to see Ultron evolve throughout the movie, as most of the photos leaked so far are considered visions of the many forms of Ultron. What else do you want to see in 
The Avengers: Age Of Ultron
? Let us know in the comments below!
Keep Up With PopWrapped On The Web!