In an attempt to continue with fresh ideas, DC Comics will not only be
altering the Man Of Steel's wardrobe
ensemble, but will also receive a new power that is sure to leave destruction in its wake. Before the newest issue of Superman (#38) arrives tomorrow, DC released a chart along with new artwork to acknowledge Superman's current abilities and
a new ability
- The Super Flare. The chart references when Superman received his notable previous powers including; invulnerability, flight, super strength, x-ray vision, heat vision, and super hearing, all which were included throughout the 30's and 40's comic era. There have been numerous other powers in the past used to revamp the iconic hero but most of them were eventually written out or only used in limited arcs.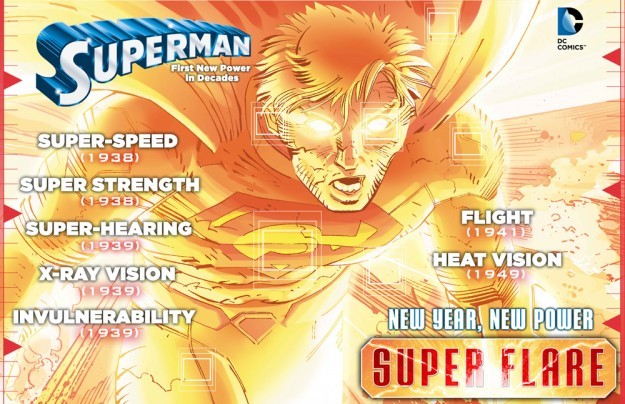 Comic Book Resources
Writer Geoff Jones hints of the devastatingly powerful new ability saying, "And he's not exactly excited about it because it is so dangerous and there are consequence. It's not going to be suddenly he can levitate things. It's something that is going to be very unstable and something that Superman's going to have to deal with for quite a while." This new power will be revealing itself in a pivotal moment included in the conclusion of the current "Men Of Tomorrow" arc, which will be available in comic book stores and available for digital download through DC. Are you happy to see Superman pick up a few new tricks?
Keep Up With PopWrapped On The Web!