Hey there Supernatural fans! It's Susan, back to do your weekly recap of this week's episode of
Supernatural
! Now, I am going to have to ask you to stop whatever it is that you're doing right this second because the King of Hell's mother has shown up! Crowley's mommy has arrived, and the head witch of the episode is not Crowley's wife. It's really nice to see that after ten seasons, this show is still capable of surprising me. Here's what happened on this week's episode, "Girls, Girls, Girls". This week begins with a hooker running from a pimp, not exactly words I get to say that often. The hooker stabs her pimp in the eye with her high heel and he still doesn't die! Flash to Sam and Dean eating a steak dinner when Dean's phone starts blowing up with "alert thingys for monster stuff." Dean means that his dating app is attracting all the ladies. What's with his username, Impala67? I could barely contain my laughter. That was, until I remembered that I also in fact have a dating app. I was actually tempted to stop the episode just so I could scope out Dean's profile. I know, I'm just like every other fan girl on the planet, but I couldn't help myself!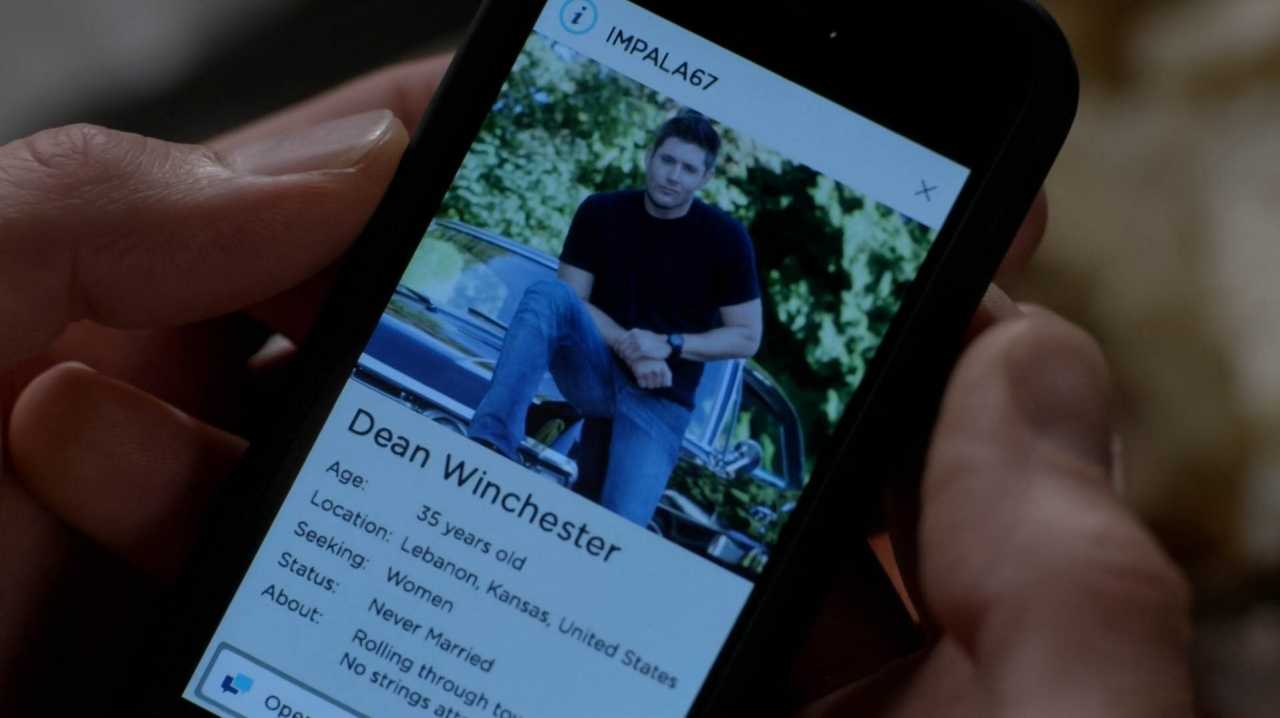 Courtesy of CW
Here's what his profile says: Dean is 35 years old from Lebanon, Kansas. He's seeking women and has never been married. It turns out that Jensen Ackles was actually asked by a fan at a Supernatural convention what it would say if Dean actually had a dating profile, and it ended up in this episode, it reads: "Rolling through town; no strings attached." Why does this NOT surprise me in the least? What do you think was better? Dean's profile or Sam reading Dean's raunchy conversation with that chick Shaylene? Just as Sam decides to school Dean in the art of "catfishing" Shaylene just happens to show up, big boobs and all. It's funny how she turns out to be a hooker, but it's just too bad, so sad that Dean has a "No cash for ass" code. This had to be one of the funniest moments in this episode for me. Guess what, so does Shaylene. Instead, she actually asks Dean for his soul in exchange for sex. (How many men have ACTUALLY agreed to this? Can anyone tell me?) Within a matter of minutes, Sam and Dean have trapped the demon/pimp in a motel room. But when Mr. Demon Pimp starts talking trash to the hooker, whom he not only had abducted, but forced into prostitution, things start to get alittle out of hand. One of the best lines of the episode "Demon from Hell beats trash from the street." The hooker grabs the angel blade from Dean and ganks the pimp. As Dean puts it, "Well, that just happened." ROTFLMAO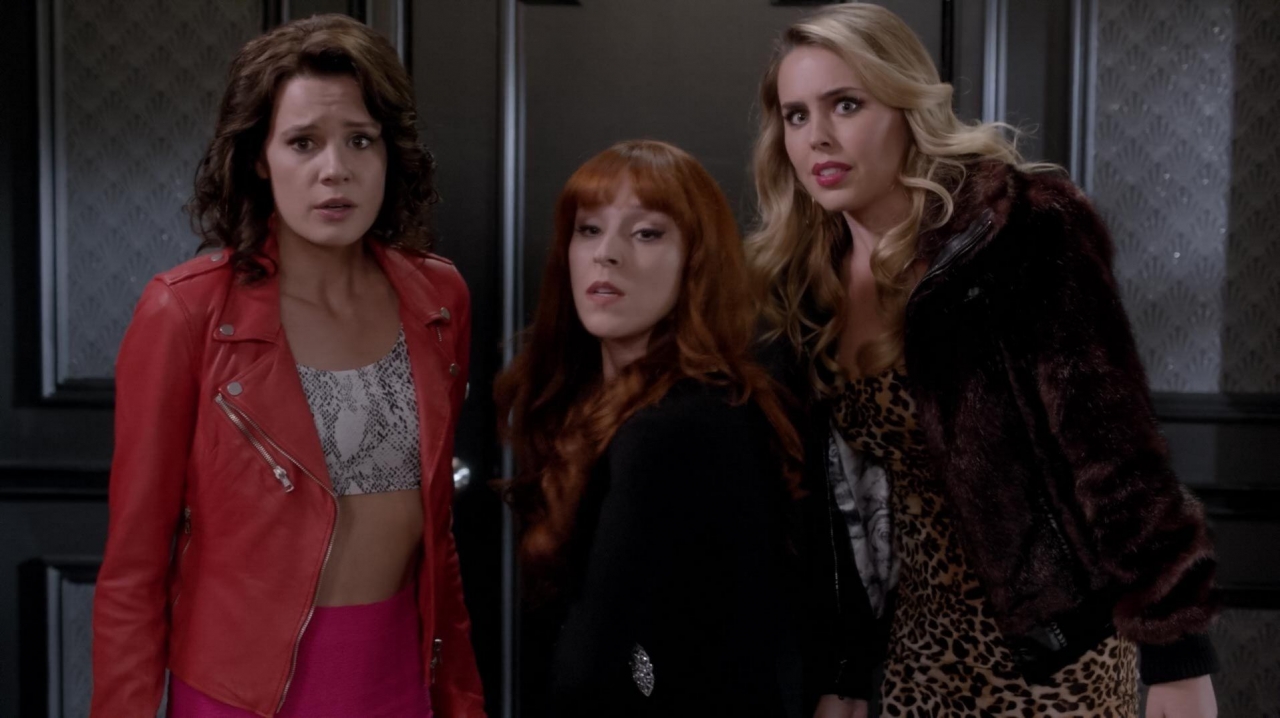 Courtesy of CW
On the other side of town, we're introduced to Raul's Girls, the brothel at the center of this entire episode. And as soon as the red haired Scottish woman walks into the room, it's quite clear that the infamous Rowena is ready to make her grand entrance. She then begins forcing Raul to puke himself to death and saving two of the hookers from a life STDs and one night stands. Sadly, once Rowena gets the two hookers alone in a fancy restaurant, it's more than obvious that she wants more from them. Rowena is looking for some new witches to join her crew. She claims that there's something called a grand coven, which says that there are three types of witches: borrowers, naturals, and students. Because Rowena is a natural, she can mentor students, but according to Rowena, she hasn't been approved by the coven, which probably has to do with the fact that every spell she does end with dead people. Rowena and her hookers prepare to leave the restaurant, just as Sam and Dean have figured out exactly who she is, not to mention the fact that she is 300 years old. The boys track her down, only to have Rowena turn one of the hookers into an attack dog. She uses an attack dog spell—and then, just to show that no one in this show has ever understood the concept of bad timing, Cole decides to make his return just as Dean pulls his gun on Rowena. And in what would will forever be known as the little hunter that could, Rowena gets away just in time for poor little Cole to realize that he still is behind in the times. After having spent many weeks preparing to take down Demon Dean, he's face to face with Dean 2.0, new and improved! Or is he? Sam manages to fend off the hooker attack dog, Dean once again throws Cole around like a rag doll before he gives him some insight into what really happened to his Daddy. According to Dean, Cole's father was a monster who was going around killing people for their livers. What kind of monster is that exactly? Well, Dean doesn't seem to have an answer to that. He's never seen one since that first time. Perhaps this storyline will come back later... we shall see. Despite all of that, Dean tries to assure Cole that he killed his father to save peoples lives. You know, saving people, hunting things, the family business. When Sam comes back around to hear the conversation, Dean proceeds to inform Cole that he's past saving. Dean knows exactly how his story is going to end, at the edge of a blade or the barrel of a gun. The question remains: Is today the day he will die? Spoiler Alert: Nope! Managing to avoid death at the hands of Dean Winchester, Cole goes home to his family and Sam once again begins to worry about his brother. What was that comment Dean made about Cole being past saving? According to Dean, he was just telling Cole what he needed to hear, but judging by the look on Sam's face, he's not even close to being convinced. Don't let me forget about the angels!!! In a moment I know I was waiting for with bated breath, Cas and Hannah's sexual tension comes to more than a boiling point when Hannah strips down right in front of him and then comes face-to-face with her vessel's husband. Everyone, meet Joe, Caroline's husband. (Caroline is Hannah's vessel.) Joe happens to be a very stubborn man who still loves his wife (color me shocked), so in order for her to get him to leave, Hannah tells him she's with Castiel. And then, in one of the best moments of the episode, Cas and Hannah kiss! Sadly, it somehow manages to have the opposite effect, which is disappointing if you were hoping for something other than that to happen. I know, it sucks big time! Moving on... Hannah has decided that she's done putting her mission as an angel before the needs of the humans. Because of Caroline's human feelings, Hannah decides to go back to heaven and leaves Caroline to return to her husband. The even bigger twist, if you can call it that? Hannah's decision forces our beloved Cas to Google Jimmy Novak, his vessel. DON'T DO THIS,CAS!!! I'M BEGGING YOU!! (falls to my knees and begins to pray) One more important part I almost forgot about entirely: Crowley's demons capture Rowena, which of course, leads to the family reunion that will take me quite some time to get over. Over all, what started out as a fun episode ended with some tears and a gasp-worthy twist that may very well change the course for the rest of the season, especially for Crowley. It was wonderful seeing the Winchester boys just gank the hell out of another great episode! I have to admit, I am curious to see what's up with the grand coven. Something else to keep in mind, if there's an "attack dog" spell, then God only knows what the hell else is out there, and I am just dying to find out! This concludes this week's recap of Supernatural, stay tuned for the next all new episode, even though I can't recall when exactly it is. LOL Do as Dean does and stay classy!
Keep Up With PopWrapped On The Web!