If you haven't been watching Superstore, then you are missing out! This show is fresh, hilarious and very relatable!
Superstore started on NBC mid-season in January, meaning it only had 13 episodes, but it deservedly received good ratings, and a second season was ordered early on. The show is about a Walmart-like store called Cloud 9 and the range of people who work there. It stars America Ferrera (from Ugly Betty), Ben Feldman (from A To Z), Colton Dunn, Nico Santos, Nicole Bloom (from Shameless), Lauren Ash (from Super Fun Night) and Mark McKinney (from SNL). They each play very interesting, diverse and dynamic characters that really play off each other well.
This show has the humor of Parks And Recreation in the sense that you get to see the ridiculous-ness of average shoppers (like we did with Pawneeans), and the relatable-ness of the The Office because everyone who has worked in retail or even been inside a store like this will understand and relate.
The good news is: this show will be around for a while, as it recently got a full order pickup from NBC, meaning that 22 episodes (a full season) will air instead of 13.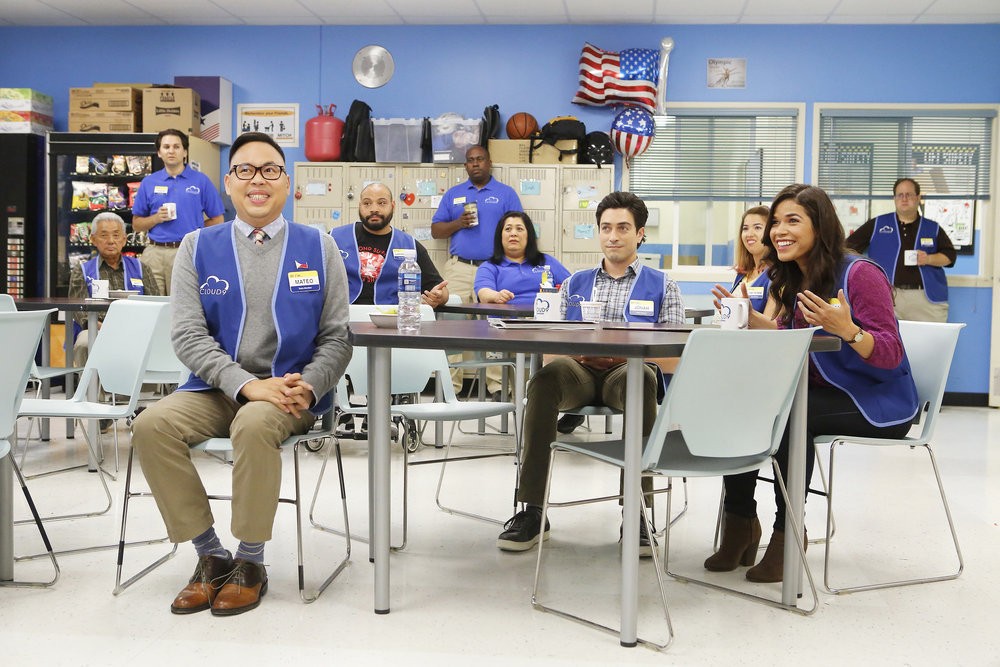 vox.com
Apparently airing a fun bonus Olympics-themed episode this summer during the Rio Olympics and having it paired with other NBC comedy The Good Place on Thursday nights helped boost viewership a lot. In fact, its premiere last week was NBC's highest rated adult viewing for a Thursday comedy in three years, and it is NBC's top-rated new comedy since the 2013/14 TV season.
I'm so glad because this show is amazing. It's light, but, seriously, every episode has me laughing out loud multiple times. With so many intense and dramatic shows out there, having this in my lineup is great. I look forward to it.
Superstore airs Thursdays at 8 on NBC.