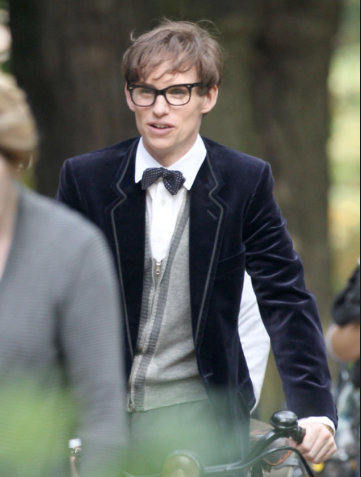 Tarra Matthews
Senior Content Manager
@tlcm_16
To many, Stephen Hawking is as fascinating as the contributions he's made in the field of astrophysics; a brilliant mind who has changed so much of how we look at the world and now, and we'll get a glimpse into the life of the British genius thanks to the biopic 
The Theory of Everything.
The film
stars
Eddie Redmayne (
Les Miserables) 
as Hawking and Felicity Jones as 
Jane Wilde, Hawking's first wife whom he met while attending Cambridge University in the UK.
The movie is based on Wilde's memoir Traveling to Infinity: My Life with Stephen, and chronicles the couple as they attend Cambridge and their struggle when Hawking is diagnosed with Motor Neurone Disease (more commonly referred to as ALS or Lou Gehrig's Disease) which saw Hawking's muscles quickly weaken and eventually confined him to a wheelchair.
Hawking also lost his ability to speak after a tracheotomy and he now speaks with the aid of a computer. Doctors gave Stephen Hawking 2 years to live at the age of 21, but, luckily for the world, they were wrong.
The Theory of Everything
 that was
released
yesterday (August 6)! Redmayne does a brilliant job portraying Hawking in the film, and once you hear Hawking's iconic computerized voice in the trailer, you'll get this thrilling chill up your spine! The movie will make its world premiere at the Toronto International Film Festival in September before being released on November 7th, 2014 in the U.S. and January 2nd in the UK. Will you be checking out this movie?
Keep Up With PopWrapped On The Web!