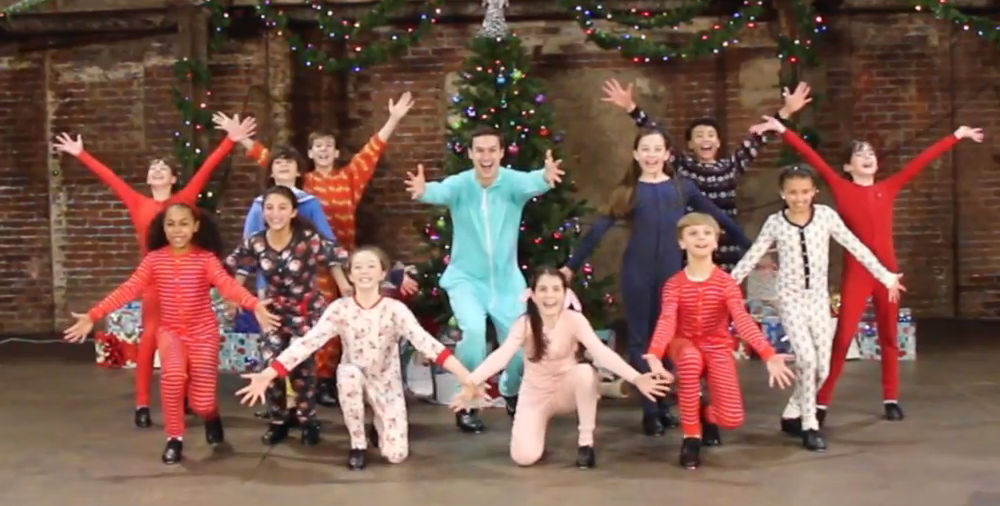 On Christmas Eve night, kids around the world try their best to stay up to catch a glimpse of Santa Claus. Most of them hide and spy on the happenings under the tree, but some kids wait for Santa by tap dancing in anticipation!
Christopher Rice, and his team of adorable pint-sized #Tappy dancers, released a new YouTube video on December 5th to show how they keep themselves entertained while waiting for a "sneak peak" at Santa!
The video is called "Tappy Holidays" and  features twelve talented kids: Beada Briglia, Timothy Tv Cao, Grace Capeless, Ava DeMary, Wyatt Drew Florin, Benjamin Kolitch, Brooks Landegger, Alexa Shae Niziak, Sawyer Nunes, Sofia Roma Rubino, Analise Scarpaci, and Beatrice Tulchin, many of whom have performed on Broadway in Matilda the Musical, A Christmas Story, Billy Elliot and more. They tap dance alongside Christopher Rice, the director of the video, to the popular holiday song, "Santa Claus is Coming to Town".
Clad in onesie pajamas, the dancers' rhythmic holiday cheer is contagious. The video is a perfect addition to the series of #Tappy videos posted this year on Christopher Rice's YouTube channel, which includes the viral "Cups" video that put a spin on the song made famous by Pitch Perfect.
The new "Tappy Holidays" video is encouraging viewers to interact with the cast in a brand new way: a "Tappy Game" element has been added to the video! The rhythms of four popular holiday songs have been hidden within the choreography (not including the rythym of "Santa Claus is Coming to Town").
Viewers can rewatch the video and try to find the 4 songs! Leave a comment on the YouTube video to let the cast know which song rhythm you found (be sure to include the time stamp from that dance sequence)! You can also tweet your "Tappy Game" answers to @ChrisRiceNY. Include the tag: #TappyHolidays.