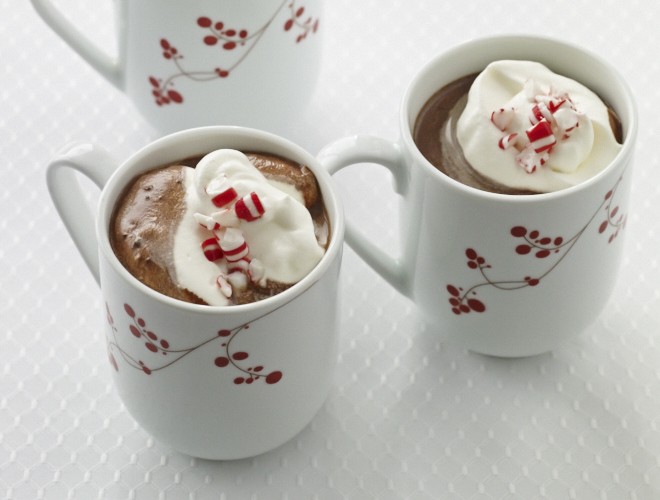 One of the best parts about the holiday season is the food! It doesn't matter who you are or where you live, there seems to be a celebratory holiday that falls between the end of November and early January.
My family celebrates Christmas during this time of year,  but many of the holiday recipes that follow can be changed slightly to reflect any number of holidays, i.e. swapping out the red and green of Christmas for the blue and white of Hanukkah. I am one of those people that doesn't follow recipes unless I have to, so I say let your creativity flag fly high, and make these recipes your own. They are not only fun, but easy, and will be a perfect addition to your holiday table.
Depending on where you live, the holidays are usually a bit on the cold side, and there is nothing better than snuggling up with your sweetie in front of the tree with a mug of hot chocolate. (Liquor optional, of course :)) Making your own hot chocolate mix is very easy, and you can even make the mix ahead of time, and use it whenever you please.
Ingredients:
3 1/2 cups of sugar
1 tablespoon of salt
2 1/4 cups cocoa
Directions:
Combine the cocoa, sugar and salt in a large bowl, and whisk it together. Store the mix in an airtight container until ready to drink. When ready, take a cup of whole milk and heat it in the microwave or in a saucepan. For each serving, add 2 tablespoons of the hot cocoa mix and stir it to dissolve.
Christa's Tip:
If you like the flavor of mint, place a peppermint stick in the hot cocoa and stir to add a subtle minty flavor.
I know a lot of people who love puppy chow at any time of the year. During the holidays, however, you can add a festive spin by making a peppermint version of this tasty treat.
Ingredients:
5 cups of Rice Chex cereal
10 ounces of melting white chocolate
1 cup of confectioners' sugar
1 cup of crushed candy canes
Directions:
Pour the Rice Chex into a large bowl, and then melt the white chocolate according to the directions on the package. Pour the melted white chocolate over the cereal, folding and stirring until it is covered, and then fold in the crushed candy canes.
Pour the confectioners' sugar into a large zip-top bag or large container with a lid. Pour the Chex into the container, and then shake until the cereal is coated in white!
Christa's Tip:
Crush the candy canes in a plastic sandwich bag to keep things from getting too messy!
There is really no easier holiday recipe to make than chocolate dipped pretzels. One of the reasons I love this recipe is because there is no stopping you when it comes to creativity. You can use mini pretzels, pretzel rods, or pretzels in the shape of a Christmas tree. You can use almost any pretzel you want, though I would advise against those with cheese, buffalo spices or garlic on them...they probably won't taste good with chocolate.
Ingredients:
12-oz package of any chocolate chip flavor (or any chocolate, for that matter!)
A bag of your favorite pretzels
Decorations such as sprinkles
Directions:
Melt the chocolate in a bowl, stirring often until it is melted. (There should be directions on how to do this on the package.) Once the chocolate is melted, you can begin to dip the pretzels. Some people dip the entire pretzel, some only dip half, and some come up with their own take on dipping. As soon as the chocolate is as you want it, add your sprinkles or other decorations. Coconut flakes, crushed candy canes and cinnamon sugar all make delicious and easy toppings for the chocolate.
Christa's Tip
Get as much of the chocolate off as possible by dripping and scraping before putting on the sprinkles. It looks neater and is less messy.
If there is one cooking site that I would leave all others for, it is Skinnytaste.com, especially during the holiday season when I try to watch what I eat. (The food is so GOOD though, right?) Gina from Skinnytaste.com has a fantastic gingerbread recipe that you can use for cookies, a gingerbread house or for whatever you can come up with.
Ingredients for the Gingerbread:
1 tablespoons of softened, unsalted butter
3/4 cup packed brown sugar
1/2 cup unsweetened applesauce
1 egg
1/3 cup dark molasses
3 cups all-purpose flour
1 teaspoon of ground ginger
1 teaspoon of ground cinnamon
1/2 teaspoon allspice
1/4 teaspoon ground cloves
Ingredients for the Icing:
1 1/2 tablespoon of egg whites
1/4 teaspoon of fresh lemon juice
1 cup of powdered sugar
A pinch of cream of tarter
Directions:
In a bowl, mix the butter, applesauce and sugar with a mixer until smooth, and then add the egg and molasses. Mix it all together. In another large bowl, mix the baking soda, flour and spices, and then add it to the other bowl, mixing it all. Divide the dough into two balls, cover them with plastic wrap, and allow them to chill for a minimum of two hours.
Preheat the oven to 350 F, dust the working area with flour, and then roll out the dough. Use one ball at a time, keeping the other in the refrigerator as you work. Roll the dough out until it is about 1/8 to 1/4-inch thick, and then cut the gingerbread into the desired shape with cookie cutters or a knife. Line a baking sheet with silpat or wax paper, and then place the cookies onto the sheet. Bake for 10 - 12 minutes. Allow the cookies to cool, and then prepare the icing by mixing the lemon juice and egg white together, then adding that to the powdered sugar. If it is too thin, add a bit of powdered sugar, and if it is too thick, add more lemon juice. Decorate with icing and other treats, such as candy or sprinkles, and enjoy!
Christa's Tip
Keep the dough as cool as possible, or it will be difficult to work with. I learned my lesson the hard way back in sixth grade Girl Scouts.
I hope you have enjoyed these recipes, and I encourage you to make your own holiday treats! Wishing you all of the best this holiday season!